NEW YORK AND ITS INTERESTING PLACES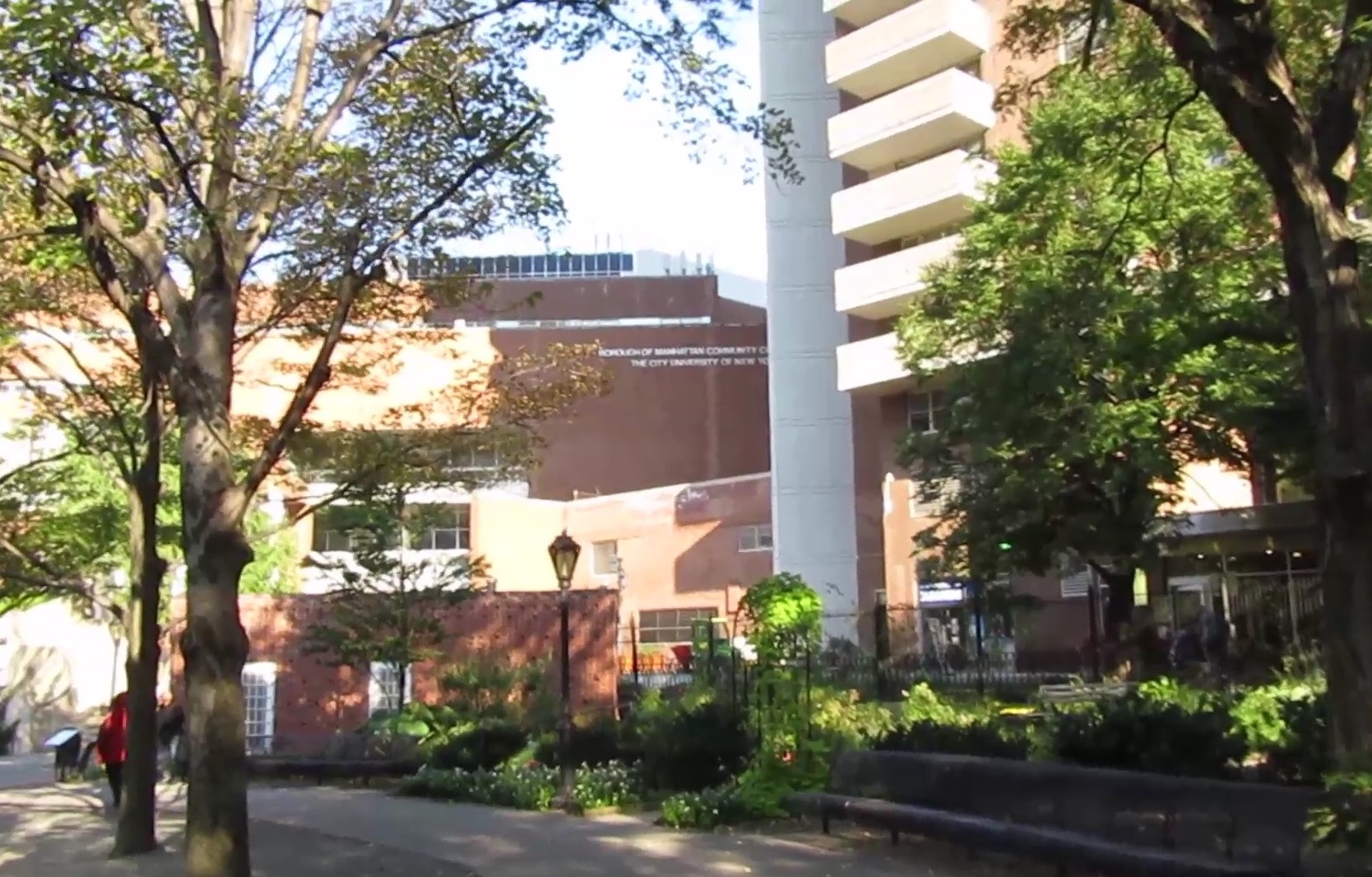 A lovely garden where we had our chi kung courses
---
---
On the 28th September 2018 Eugene (Sifu Eugene Siterman), Chris (Sifu Chris Didyk), Michael (Sifu Michael Simon) and I went over the Brooklyn Bridge near Eugene Hotel in Brooklyn to Manhattan, or the City as often referred to by native New Yorkers, for our chi kung courses at the Borough of Manhattan Community College.
Borough of Manhattan Community College, which is a public university, is housed atop a small hill. There is a garden below it where many people come to relax.
After the courses, we visited the High Line, which is a garden above the city. There were also a lot of tourists admiring the views from above as well as locals who make use of the garden-bridge above the city as a short-cut. We walked along the garden-bridge with an old railway line as well as some flowering bushes. We saw a train station in the distance as well as the Hudson River. The state of New Jersey is just across the river, linked to New York City by bridges and underground tunnels.
We roamed the city by night. We visited Rockefeller Foundation with flags of many nations. I remember that when we visited the place in winter sometime ago, there was a skating ring in front of the foundation and a lot of people.
We also visited Time Square by night which was like daylight with big, colorful flash boards advertising various companies. Thousands of tourists crowded the square and we had to inch forward in our car. It is a must-visit place in New York City, and very brightly lit compared to Time Square in Penang where I came from.
We went to Chinatown in the day time. Kang Yu Wei, a far-sighted minister in the Qing Dynasty before China became a republic, smiled on us benevolently at a small square. At first I thought the Chinatown in Toronto was big, but the old one in New York City is bigger, and is probably second to the one in San Franciso. There are actually a few Chinatowns in New York City.
I particularly remember an ice-cream shop in the old Chinatown of New York City where I had some very delicious ice-cream. I was actually quite surprised at the quality of the ice-cream, though some sources in the internet mentioned that it was China that had the first ice-cream in the world. I thought the first ice-cream was in Italy or in the United States.
Another place I remember fondly was a Vietnamese restaurant in downtown Chinatown in New York City that served "pho" or rice noodle in soup, and other Vietnamese delicacies. The scenes in New York Chinatown reminded me of many shops along Campbell Street in Penang where various goods, especially dresses, were placed in front of the shops, and many types of fruit were sold in roadside stalls.
The goods sold here are cheap. I often wonder how the Chinese here survive in the United States. I remember that when I was in Hawaii I bought a few Hawaiian shirts in a Chinese shop where the same shirts would have cost much more elsewhere in Hawaii, and I gave the shop attendant a big tip. Eugene, however, told me that many older Chinese in Chinatown in New York City never went outside of Chinatown.
We also visited the waterfront of Manhattan at South Street Seaport. There was a big sailing boat anchored there, but we didn't find ocean liners. Manhattan Bridge and Brooklyn Bridge, which link Brooklyn and Manhattan, were not far away. Eugene found out that we could cross over the Hudson River from Manhattan to Brooklyn for USD $25 each for a tourist boat ride. We chose an ordinary boat ride which costed USD $2 each. It was a comfortable ride and we saw many lovely scenes.
Wong Kiew Kit
25th October 2018, Sungai Petani.
LINKS
Travels in USA
New York -- The High Lone, Garden on Top of City
Rockefeller Foundation, Time Square and Mahattan College
China Town and New York Harbor
New York Harbor of New York City
Courses and Classes
---
---