THE BEAUTIFUL SKYLINE DRIVE IN VIRGINIA, USA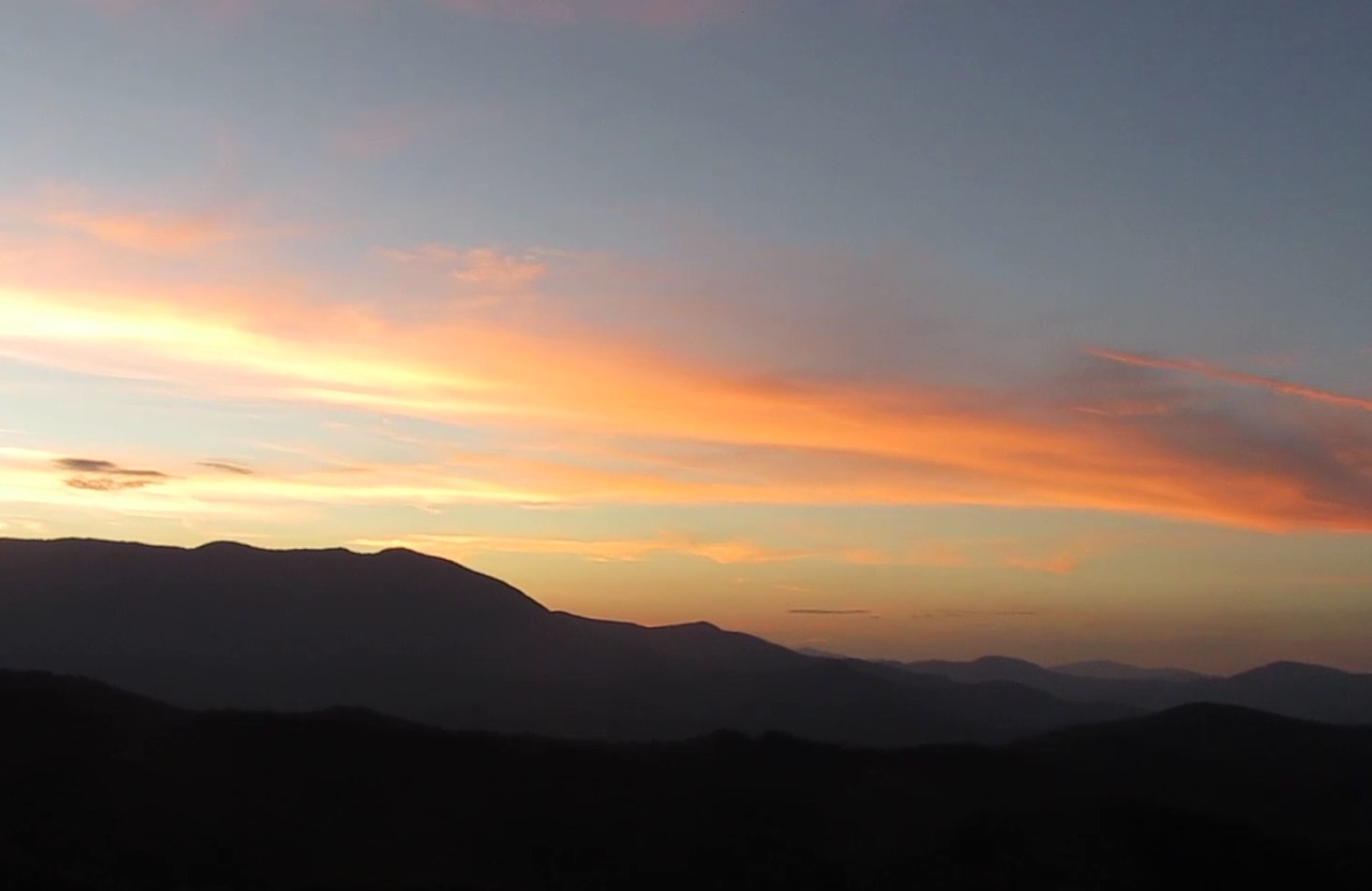 A beautiful sunset along Skyline Drive
---
---
On the morning of 3rd October 2018 Eugene (Sifu Eugene Siterman), his finance, Idi, Chris (Sifu Chris Didyk), Mariangela (Sifu Mariangela Aime), Brian and I had breakfast at a corner restaurant at the pier on the Wharf. We then enjoyed a walk down the pier with many yachts at the riverside, and modern shops on land.
We crossed the river in two cars over a bridge into the state of Virginia and came to a small town called Front Royal where we began our scenic journey along Skyline Drive through Shenandoah National Park. We stopped at a vintage point in a leafy opening and admired the Shenandoah valley and the rolling hills of Virginia Piedmont.
We then left the Skyline Drive to arrive at Luray Caverns. At first I was not impressed. There were just some shops with a large car park. Yet, behold! As we went down some steps which were not visible from outside, I found Luray Caverns to be a cave of stalactites and stalagmites. The Luray Caverns was the largest caverns in eastern United States.
Inside the caverns there were stalactites, stalagmites, flowstone, mud flows and mirrored pools. I was particularly impressed with a large mirrored pool which reflected stalactites that looked like stalagmites without realization of any reality. There was also a large open space called the Great Stalacpipe Organ, with stalactites of various sizes to produce tones similar to those of xylophones, tuning forks, or bells.
It took about an hour to walk through the Luray Caverns.
We then went back to the Skyline Drive, frequently stopping at vintage points to admire the scenery. We came to a developed area with a recreation center and some shops selling souvenirs. I guess this place was called Big Meadows. There was a water mill nearby and a lake in front. I purchased some postcards and a cashier mentioned that if we were lucky we might see some bears.
True enough we are always lucky, or "hou yun qi" which literally means "good circulation of energy". We saw three little black bears trotting along the road in front of our cars. We also met some deer.
We then came to the Swiss Inn, which was a beautiful hotel with lovely architecture and commanding scenery. There was a grey bear, not a real one but made of metal. There were many tourists enjoying their meals, a pair playing table tennis, and some lying on deck chairs adoring some lovely scenery amidst some artistic fire.
We came to a captivating spot called "Three Knobs Overlook" which had an elevation of 3875 feet. Inspired by the sight, I performed "One-Finger Shooting Zen" while the others enjoyed their chi flows. We then admired the sunset. It was an enchanting display of many colors, with blue, yellow and orange predominating. Nobody wanted to leave, despite it being late.
We then left Skyline Drive to Lexington, a small city in Virginia, for our dinner. After a delightful dinner we returned to the Skyline Drive and reached our lakeside hotel around 10 o'clock at night.
Wong Kiew Kit
26th October 2018, Sungai Petani
LINKS
Travels in USA
Shenandoah National Park and Luray Caverns
Skyline Drive in Virginia< USA
Courses and Classes
---
---