THROUGH ASHVILLE TO ATLANTA IN ROAD-TRIP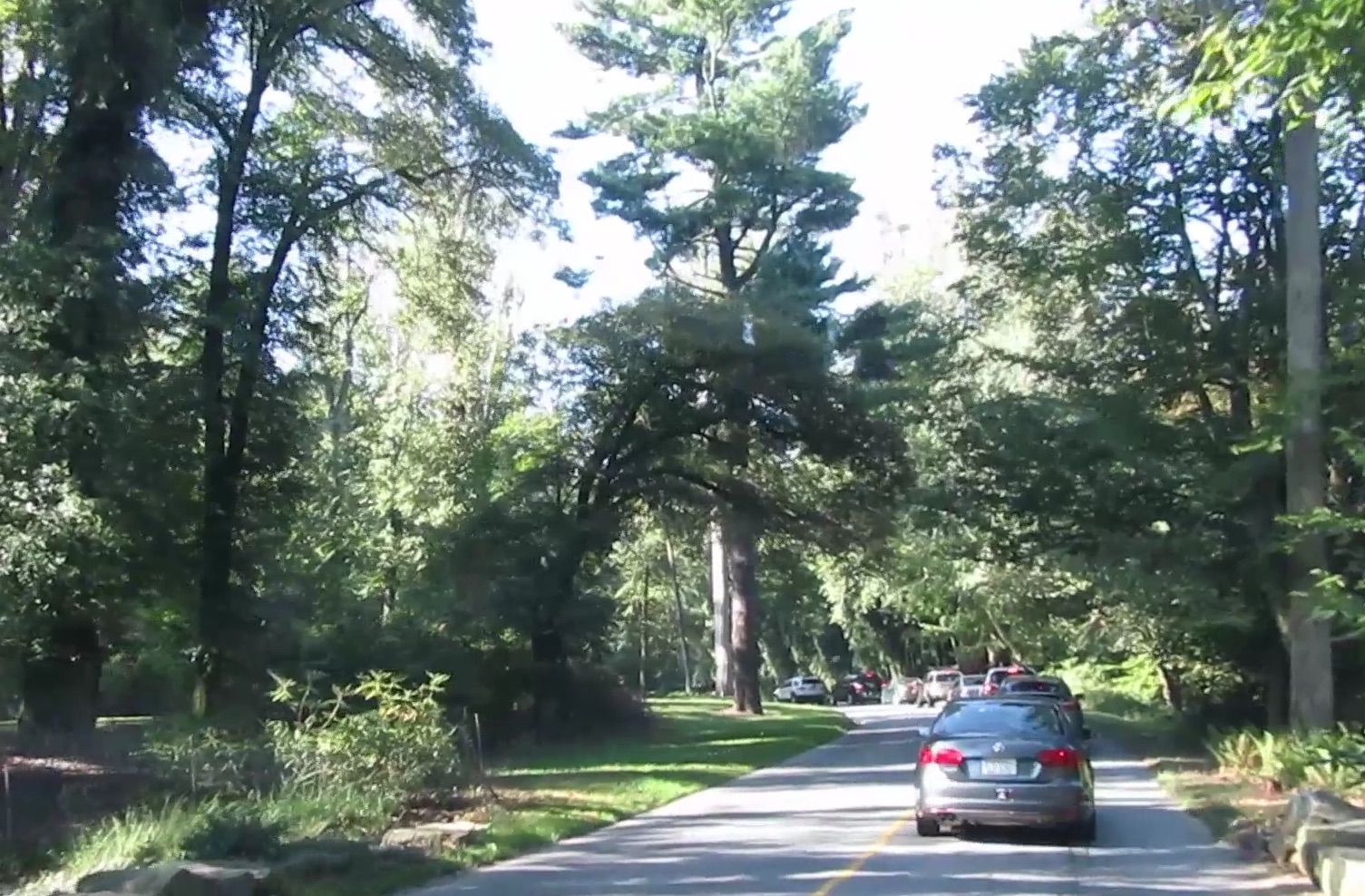 Road trip from Viginia to Georgia
---
---
On the morning of 4th October 2018, Eugene (Sifu Eugene Siterman), Idi, Chris (Sifu Chris Didyk), Mariangela (Sifu Mariangela Aime) and Brian practiced kungfu at the lakeside of our hotel.
Then we continued our journey southward along the Blue Ridge Parkway, which was sometines called "America's favorite drive" that wound through 469 miles linking Shenandoah National Park in the north to Great Smoky Mountains National Park in the south. It was a lovely drive well known for its rugged mountains and pastoral landscapes of the Appalachian Highlands.
The Blue Ridge Parkway was different from the Skyline Drive. While the Skyline Drive was close and covered with trees, the Blue Ridge Parkway was open with varied landscapes and some farms.
We stopped for lunch in Walkertown, North Carolina. Then we continued on the Parkway. Many thought of the Parkway as just a motor road for a pleasant drive, but it was also a place of varied and significant natural resources offering a glimpse of the regional flora and fauna that were well known for their biodiversity, and many of its vegetation and wildlife were very rare.
We stopped for beautiful vistas especially at sunset on the way to Ashville in North Carolina where we had dinner. After dinner we tried to find Old Europe Cafe which we visited in our month-long US cross-country tour of 2007 with Eugene and Riccardo (Sifu Riccardo Salvetore). We found out that the owner of Old Europe Cafe opened another location near by.
We had some trouble finding our hotel and went back to the highway where we got stuck in traffic but I pointed out a shortcut and we made a u-turn that took us right back to our hotel.
Early next morning on 5th October 2018 we looked for a suitable place to practice kungfu and chi kung but none was available. After some initial chi kung I told the group not to practice anymore as it was a parking lot with lots of toxins from the ground.
For breakfast we met up with Teresa, who was one of Chris' students and now studied Chinese medicine in Asheville. It was one of the best breakfasts we ever had.
Then we proceeded to drive towards Atlanta, the biggest city of the region. We stopped at a shopping mall in Greenville where Eugene and Chris helped me to buy a new Apple computer. Chris found a charming Chinese restaurant where we had some delicious Chinese food.
We drove to Atlanta by highways. We hit a lot of traffic as it was rush hour. Atlanta was where Delta Airlines had its headquaters, as well as home of Coca-Cola which we visited. It was also the home of Martin Luther King Jr, who was a famous leader in the civil rights movement famous for his "I had a dream" speech.
We checked into our hotel where Eugene and Chris helped me to setup my new computer. Then we went out for dinner. We visited a food court with many little stalls and decided to eat at Ticonderoga Club.
We had a family style dinner with delicious prawns, lamb and pork. We laughed a lot and enjoyed a waiter leaping over a counter. He probably had training in parkour, which was similar to the Art of Lightness. All the others enjoyed ice-cream for desert, but in one of my very rare moments I abstained as I just had a delicious dinner.
Wong Kiew Kit
26th October 2018, Sungai Petani
LINKS
Travels in USA
Courses and Classes
---
---