ECOLA BEACH, JAPANESE GARDEN AND MULTNOMAD FALLS OF PORTLAND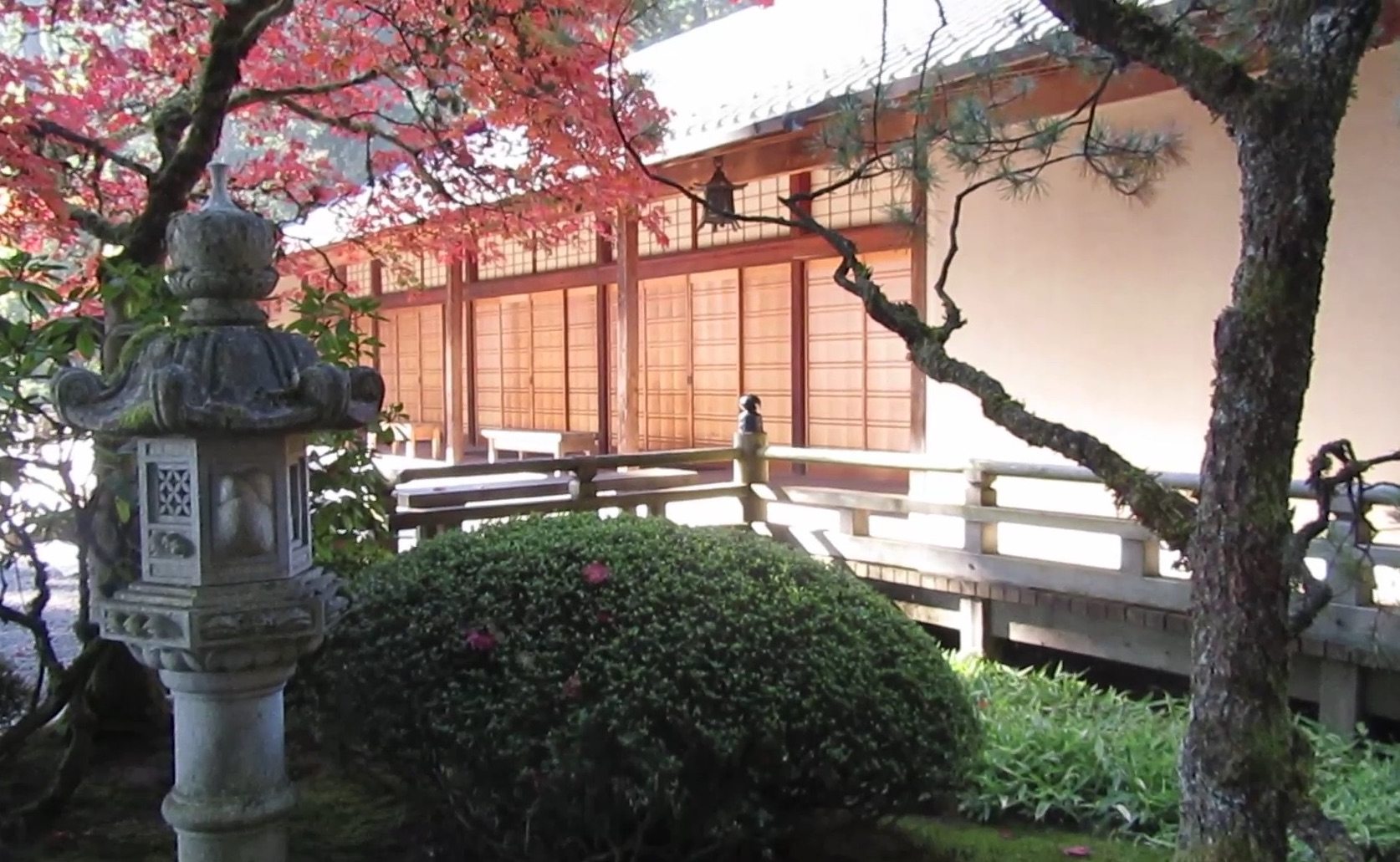 Portland Japanese Garden
---
---
Michael, Brian, Christina (Sifu Christina Didyk) and I traveled in Michael's big car in the morning from Seattle to Portland on 17th October 2018. If we traveled by highways it would only take 3 hours, but we preferred to see beautiful scenery. So we branched off from the Seattle-Portland Highway into some country roads.
An interesting feature when we were still travelling in Seattle was some new building under construction. It appeared that the building was made of wood as wooden planks could be seen supporting the building. While we were on the highway, Mount Helens, the active volcano that erupted in 1980 throwing the world's largest debris as an avalance, was seen in the distance.
We branched off the highway to travel towards the Pacific Ocean to Astoria. After passing some lowland we came to some forested areas before reaching Astoria, a small holiday resort for many Americans. A long, steel bridge linking Astoria in Oregon to Point Ellice in Washington over the mouth of the Columbia River at the Pacific Ocean could been seen high in the air. We arrived at a restaurant for lunch. There were some sea-lions as exhibits in glass cage beneath the restaurant.
We crossed a small bridge and came upon some tall trees in a woodland. Soon we arrived at Ecola State Park. The Ecola Beach with some huge rocks carassed by whitest waves was one of the most beautiful scenes I had seen in my world travels.
We arrived at Portland for dinner at one of Michael's favorite restaurants. There was truth in Michael's statement that Portland's food was the best in the United States. Then Michael took me to lodge in a house all by myself.
The next morning on 18th October 2018 we visited the famous Portland Japanese Garden. We were joined by Charles who came in his own car. The Portland Japanese Garden was reputed to be the largest Japanese garden ourside Japan. We had to leave our car at a parking lot to take a small bus to go up a small hill to admire the garden as one walked downhill.
We came at a right time in fall to see trees of different colors. It was exquisite with Japanese architecture and art. The garden was paved with carefully carved stones with ponds and small waterfalls and lovely coil fish in them.
There was a bonsai section with miniture trees which Christina was much interested. There were lovely buildings in Japanese style with wooden gateways, wooden bridges, artistic structures and miniture pagodas. There was also a Zen temple with simple arrangement of sand and stones. If not for the Caucasion tourists, one might easily think that he was in Japan.
On the morning of 19th October 2018 we visited the Multnomad Falls which was about 30-minute drive outside Portland. It was the second highest waterfall in the United States, with its water from the Columbia River cascading about 620 feet downwards, compared to the world's highest waterfall, the Angel Falls of Venezuela, cascading about 1000 meters (about 3300 feet) downwards from the Carro River.
One could see the Multnomad Falls from the highway, but a better perspective was from a viewing area located in a carved-out opening in the rock face. Better still was to walk up some steps to a bridge built between two high rocks.
We then went to a Vintage House to view the Columbia River. We traveled along the river and went up some hills to come to a vintage house. It was a magnificient scene.
Wong Kiew Kit
27th October 2018, Sungai Petani
LINKS
Travels in USA
From Seattle to Portland, USA
Ecola Beach, Oregon, USA
Portland Japanese Garden (1)
Portland Japanese Garden (2)
Multnomad Falls and Vintage House of Portland (1)
Multnomad Falls and Vintage House of Portland (2)
Courses and Classes
---
---