12 SEQUENCES OF SHAOLIN TANTUI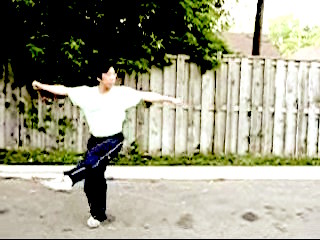 ---
---
"Tantui" means "Spring Kick", i.e. a quick, sudden kick. It is the essence of Northern Shaolin Kungfu.
It is fascinating that the whole kungfu system of Tantui is crystallized into 12 sequences as follows:
Thrust Punch -- Second Brother Offers Wine
Kicking Attack -- Rising Dragon Galloping Tiger
Chopping Attack -- Second Brother Chops Firewood
Hook Thrust -- Green Dragon Exhibits Tail
Lift Strike -- Cross-Road Lift Strike
Double Spread -- Embrace Moon in Bosom
Single Strike -- Single Strike Bell Sounds
Thrust Kick -- Shoot Spear at Yun Pavilion
Break Lock -- Second Brother Breaks Lock
Arrow Spring -- Swallow Flies through Clouds
Hook Hang -- Arrest Horse at Cliff
Side Fist -- Turn Body Strike Rock
Please click here to view the video.
A picture series of the 12 Sequences of Tantui can be accessed here.
---
The 12 Tantui Sequences can be viewed collectively. Please click on the picture to view the video here or on the caption below to view it at Vimeo.
LINK
12 Sequences of Tantui
Tantui in Picture Series
Combat Application of Tantui
Tantui, the Essence of Northern Shaolin
Kungfu Sets
Treasure House of Kungfu Sets
Treasure House of Combat Application
Courses and Classes