GREAT ADVANTAGE OF THE BOW-ARROW STANCE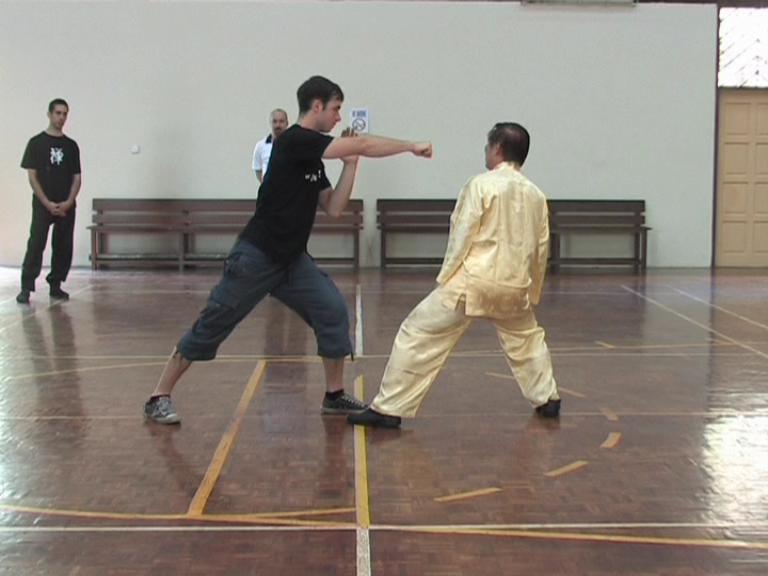 ---
One of the many great advantages Shaolin Kungfu has over Boxing is the Bow-Arrow Stance. It is ironical that many kungfu practitioners discard the stance and bounce about. By adopting a Bow-Arrow Stance, a Shaolin practitioner can readily deflect or avoid a Boxer's attacks and then counter-strike without having to move his feet. This gives him much technical speed, and overcomes the real-time speed Boxers have. Reminder: it is very important to cover a Boxer adequately before counter-striking him.
---
Please click the pictures or the captions below to view the videos
---
We wish to thank Dr Damian Kissey and the Kissey Family, the honorary organizers, for taking meticulous care to make sure every course participant is happy and comfortable.
We also wish to thank Mr Godfery Kissey of Ogingo Videography, Penampang, Sabah, Malaysia for kindly provideing us with the videos. Godfery is also a member of our Shaolin Wahnam Family. His telephone number is 60-88-731788, and e-mail address is godfery@pc.jaring.my.
---
You can view all the above videos here. Please click the picture or the caption below.

Great Advantages of Bow-Arrow Stance from Wong Kiew Kit on Vimeo.
LINKS
Overview
Courses and Classes