VARIETY OF RESPONSES (1)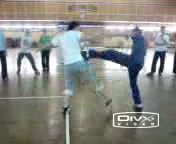 Variety of Responses
Innes and Davie from Scotland, Joshua from USA and Sifu Tim from England demonstrates a variety of responses. First, Innes and Davie show how to remain at the same spot to counter-strike an opponent when he initiates an attack. Next, Joshua demonstrates responses by moving back, moving to a side, and moving into an opponent when he attacks. Again, notice the laughter of the participants.
---
Please click the picture or the caption below to view the video

Variety of Responses in Shaolin Kungfu (1) from Wong Kiew Kit on Vimeo.
LINKS
Overview
Courses and Classes