REFINING COMBAT SEQUENCES OF SELECTIVE SETS -- OVERVIEW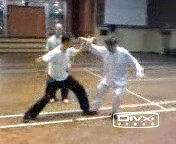 Refining Combat Sequences
---
---
Why did a kungfu master use a particular pattern and not another pattern, or why a particular pattern in a certain way and not in other ways? It was because that particular pattern in a particular way in a given combat situation gave him certain advantages over his opponent.
Participants to the Special Shaolin Kungfu Course of September 2005 in Malaysia had an experience of this process in kungfu development. They went over the combat sequences they had composed using patterns from their specialized sets. Then Sifu Wong helped them to refine their sequences.
Two examples are shown in this video series, one from the sequences composed by Simon and Mark, who are assistant instructors of Shaolin Wahnam England, and the other from the sequences composed by Sifu Joshua of Shaolin Wahnam USA and Sifu Tim from Shaolin Wahnam England.
---
Please click on the topics below to eneter
LINKS
Overview
Courses and Classes