DRAGON STRENGTH CIRCULATION CHI SET
Picture Series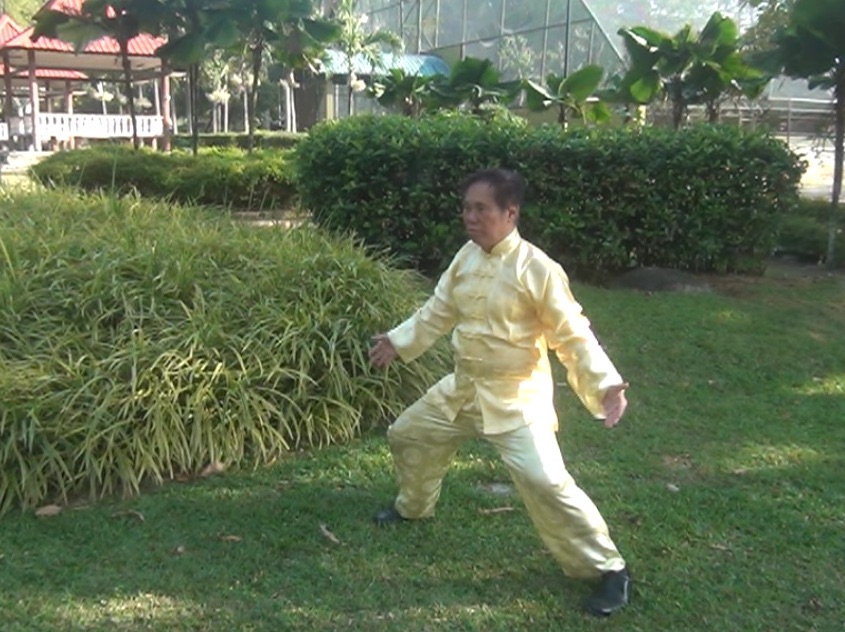 ---
---
The Dragon Strength Circulation Chi set is the favorite of Grandmaster Wong. It includes the best of Shaolin Kungfu in nei kung, dim mark and chin-na, or internal force, dotting vital points and special ways of gripping.
Grandmaster Wong first learned the set from his first sifu, Uncle Righteousness, who would pass this set to his successor. Then he learned internal force, dim mark and chin-na from his third sifu, Sifu Ho Fatt Nam, the thrid generation successor from the Shaolin Monastery at Quanzhou.
In December 2017 he taught a special Dragon Strength course where he transmitted the skills of internal force, dim mark and chin-na to his specially selected students, who also attained the level of the marvelous.
---
Sequence 1
| | |
| --- | --- |
| | |
| 1 Dragon and Tiger Appear | 2 Horse-Riding Stance |
| | |
| --- | --- |
| | |
| 3 Embracing the Sun (1) | 4 Embracing the Sun (2) |
| | |
| --- | --- |
| | |
| 5 Embracing the Sun (3) | 6 Embracing the Sun (4) |
| | |
| --- | --- |
| | |
| 7 Sound of Double Hitting Bell (1) | 8 Sound of Double Hitting Bell (2) |
| | |
| --- | --- |
| | |
| 9 Sound of Double Hitting Bell (3) | 10 Sound of Double Hitting Bell (4) |
| | |
| --- | --- |
| | |
| 11 Beauty Looks at Mirror (1) | 12 Beauty Looks at Mirror (2) |
| | |
| --- | --- |
| | |
| 13 Beauty Looks at Mirror (3) | 14 Beauty Looks at Mirrow (4) |
| | |
| --- | --- |
| | |
| 15 Double Butterflies Flying (1) | 16 Double Butterflies Flying (2) |
| | |
| --- | --- |
| | |
| 17 Double Butterflies Flying (3) | 18 Double Butterflies Flying (4) |
| | |
| --- | --- |
| | |
| 19 Spiritual Dragon Rolls Clouds (1) | 20 Spiritual Dragon Rolls Clouds (2) |
Sequence 2
| | |
| --- | --- |
| | |
| 21 Butterfly Palms (1) | 22 Butterfly Palms (2) |
| | |
| --- | --- |
| | |
| 23 Butterfly Palms (3) | 24 Happy Birds Connect Bridge (1) |
| | |
| --- | --- |
| | |
| 25 Butterfly Palms (4) | 26 Butterfly Palms (5) |
| | |
| --- | --- |
| | |
| 27 Butterfly Palms (6) | 28 Happy Birds Connect Bridge (2) |
| | |
| --- | --- |
| | |
| 29 Fisherman Casts Net (1) | 30 White Horse Presents Hoof (1) |
| | |
| --- | --- |
| | |
| 31 Horizontally Sweep Thousand Armies (3) | 32 Fisherman Casts Net (2) |
| | |
| --- | --- |
| | |
| 33 White Horse Presents Hoof (2) | 34 Horizontally Sweep Thousand Armies (3) |
Sequence 3
| | |
| --- | --- |
| | |
| 35 Spiritual Dragon Emerges from Water (1) | 36 Spiritual Dragon Emerges from Water (2) |
| | |
| --- | --- |
| | |
| 37 Spiritual Dragon Emerges from Water (3) | 38 Splash Water up to Rice Field (1) |
| | |
| --- | --- |
| | |
| 39 Splash Water up to Rice Field (2) | 40 Spiritual Dragon Emerges from Water (4) |
| | |
| --- | --- |
| | |
| 41 Spiritual Dragon Emerges from Water (5) | 42 Return Head Hand Sweep |
| | |
| --- | --- |
| | |
| 43 Big Boss Offers Wine | 44 Show Dragon Hide Tiger |
Sequence 4
| | |
| --- | --- |
| | |
| 45 Horse-Riding Stance | 46 Sound of Double Hitting Bell (1) |
| | |
| --- | --- |
| | |
| 47 Sound of Double Hitting Bell (2) | 48 Sound of Double Hitting Bell (3) |
| | |
| --- | --- |
| | |
| 49 Sound of Double Hitting Bell (4) | 50 Golden Birdge |
| | |
| --- | --- |
| | |
| 51 Circulating Soft Bridge (1) | 52 Circulating Soft Bridge (2) |
| | |
| --- | --- |
| | |
| 53 Circulating Soft Bridge (3) | 54 Circulating Soft Bridge (4) |
| | |
| --- | --- |
| | |
| 55 Circulating Soft Bridge (5) | 56 Circulating Soft Bridge (6) |
| | |
| --- | --- |
| | |
| 57 Circulating Soft Bridge (7) | 58 Circulating Soft Bridge (8) |
| | |
| --- | --- |
| | |
| 59 Circulating Soft Bridge (9) | 60 Circulating Soft Bridge (10) |
| | |
| --- | --- |
| | |
| 61 Golden Bridge | 62 Double Cutting Bridge (1) |
| | |
| --- | --- |
| | |
| 63 Double Cutting Bridge (2) | 64 Double Cutting Bridge (3) |
| | |
| --- | --- |
| | |
| 65 Double Cutting Bridge (4) | 66 Double Dragon Emerges from Sea (1) |
| | |
| --- | --- |
| | |
| 67 Double Dragon Emerges from Sea (2) | 68 Double Dragon Emerges from Sea (3) |
| | |
| --- | --- |
| | |
| 69 Double Dragon Emerges from Sea (4) | 70 Double Dragon Emerges from Sea (5) |
| | |
| --- | --- |
| | |
| 71 Double Dragon Emerges from Sea (6) | 72 Serpent Churns Waves (1) |
Sequence 5
| | |
| --- | --- |
| | |
| 73 Serpent Churns Waves (2) | 74 Serpent Churns Waves (3) |
| | |
| --- | --- |
| | |
| 75 Green Dragon Shoots Pearl (1) | 76 Fierce Dragon Across Stream (1) |
| | |
| --- | --- |
| | |
| 77 Serpent Churns Waves (4) | 78 Serpent Churns Waves (5) |
| | |
| --- | --- |
| | |
| 79 Serpent Churns Waves (6) | 80 Green Dragon Shoots Pearl (2) |
| | |
| --- | --- |
| | |
| 81 Fierce Dragon Across Stream (2) | 82 Yellow Bird Plays with Water (1) |
| | |
| --- | --- |
| | |
| 83 Fierce Tiger Pushes Mountain (1) | 84 Yellow Bird Plays with Water (2) |
| | |
| --- | --- |
| | |
| 85 Fierce Tiger Pushes Mountain (2) | 86 Peacock Opens Tail |
Sequence 6
| | |
| --- | --- |
| | |
| 87 Pakua Palm Technique | 88 Side Body Tiger Tail |
| | |
| --- | --- |
| | |
| 89 Precious Duck Swims through Lotus | 90 Butterfly Palm (1) |
| | |
| --- | --- |
| | |
| 91 Butterfly Palm (2) | 92 Single Leg Hand Sweep |
| | |
| --- | --- |
| | |
| 93 Bail Moon from Sea Bottom | 94 Dragon Shows Majesty (1) |
| | |
| --- | --- |
| | |
| 95 Dragon Shows Majesty (2) | 96 Single Planting of Flowers (1) |
Sequence 7
| | |
| --- | --- |
| | |
| 97 One-Finger Shooting Zen (1) | 98 One-Finger Shooting Zen (2) |
| | |
| --- | --- |
| | |
| 99 One-Finger Shooting Zen (3) | 100 Single Tiger Claw (1) |
| | |
| --- | --- |
| | |
| 101 Single Planting of Flowers (2) | 102 One-Finger Shooting Zen (4) |
| | |
| --- | --- |
| | |
| 103 One-Finger Shooting Zen (5) | 104 One-Finger Shooting Zen (6) |
| | |
| --- | --- |
| | |
| 105 One-Finger Shooting Zen (7) | 106 One-Finger Shooting Zen (8) |
| | |
| --- | --- |
| | |
| 107 One-Finger Shooting Zen (9) | 108 Single Tiger Claw (2) |
Sequence 8
| | |
| --- | --- |
| | |
| 109 Swimming Dragon Plays with Water (1) | 110 Swimming Dragon Plays with Water (2) |
| | |
| --- | --- |
| | |
| 111 Swimming Dragon Plays with Water (3) | 112 Reverse Panting of Willows (1) |
| | |
| --- | --- |
| | |
| 113 Dark Phoenix Looks at Sun (1) | 114 Dark Phoenix Looks at Sun (2) |
| | |
| --- | --- |
| | |
| 115 Double Dragons Play with Water (1) | 116 Double Dragons Play with Water (2) |
| | |
| --- | --- |
| | |
| 117 Reverse Panting of Willows (2) | 118 Dark Phoenix Looks at Sun (3) |
| | |
| --- | --- |
| | |
| 119 Dark Phoenix Looks at Sun (4) | 120 Double Dragons Play with Water (3) |
| | |
| --- | --- |
| | |
| 121 Horizontally Sweep Thousand Armies | 122 Big Boss Offers Wine |
| | |
| --- | --- |
| | |
| 123 Side Body Tiger Tail | 124 Catch Tiger in Mountain |
Sequence 9
| | |
| --- | --- |
| | |
| 125 Hide Flower in Moon (1) | 126 Hide Flower in Moon (2) |
| | |
| --- | --- |
| | |
| 127 Hide Flower in Moon (3) | 128 Hide Flower in Moon (4) |
| | |
| --- | --- |
| | |
| 129 Breeze Sways Lotus Leaves | 130 Lead Horse Back to Stable |
| | |
| --- | --- |
| | |
| 131 Reverse Striking of Purple Bell | 132 Dark Dragon Enters a Well |
| | |
| --- | --- |
| | |
| 133 Two Dragons Separate Water | 134 Golden Cockerel Locks Throat (1) |
| | |
| --- | --- |
| | |
| 135 Golden Cockerel Locks Throat (2) | 136 Dark Dragon Draws Water |
Sequence 10
| | |
| --- | --- |
| | |
| 137 Yellow Bird Drinks Water | 138 White Horse Presents Hoof |
| | |
| --- | --- |
| | |
| 139 Big Boss Offers Wine | 140 Side Body Lift Fist |
| | |
| --- | --- |
| | |
| 141 Single Whip on Ground | 142 Lohan Emerges from Cave (1) |
| | |
| --- | --- |
| | |
| 143 Lohan Emerges from Cave (2) | 144 Closing Iron Gate |
| | |
| --- | --- |
| | |
| 145 Z-Character Butterfly Palm (1) | 146 Z-Character Butterfly Palm (2) |
| | |
| --- | --- |
| | |
| 147 Z-Character Butterfly Palm (3) | 148 Butterfly Palms (1) |
Sequence 11
| | |
| --- | --- |
| | |
| 149 Butterfly Palms (2) | 150 Butterfly Palms (3) |
| | |
| --- | --- |
| | |
| 151 Butterfly Palms (4) | 152 Butterfly Palms (5) |
Sequence 12
| | |
| --- | --- |
| | |
| 153 Lohan Tames Tiger (1) | 154 Lohan Tames Tiger (2) |
| | |
| --- | --- |
| | |
| 155 Lohan Tames Tiger (3) | 156 Lohan Tames Tiger (4) |
| | |
| --- | --- |
| | |
| 157 Lohan Tames Tiger (5) | 158 Horse-Riding Lift Fist |
| | |
| --- | --- |
| | |
| 159 Horizontally Sweeps Thousand Armies | 160 Big Boss Offers Wine |
| | |
| --- | --- |
| | |
| 161 Show Dragon Hide Tiger | 162 Dragon and Tiger Meet Together |
| | |
| --- | --- |
| | |
| 163 White Crane Flaps Wings | 164 Dragon And Tiger Appear |
| | |
| --- | --- |
| | |
| 165 Chi to Dan Tian | 166 Flowing Breeze Swaying Willow |
LINK
Dragon Strength learnt from Uncle Righteousness -- Video
Dragon Strength learnt from Uncle Righteousness -- Pictures
Treasure House of Kungfu Sets
Treasure House of Combat Application
Courses and Classes