COUNTERS AGAINST GRIPPING ATTACKS
(Turning the Table back on your Opponent)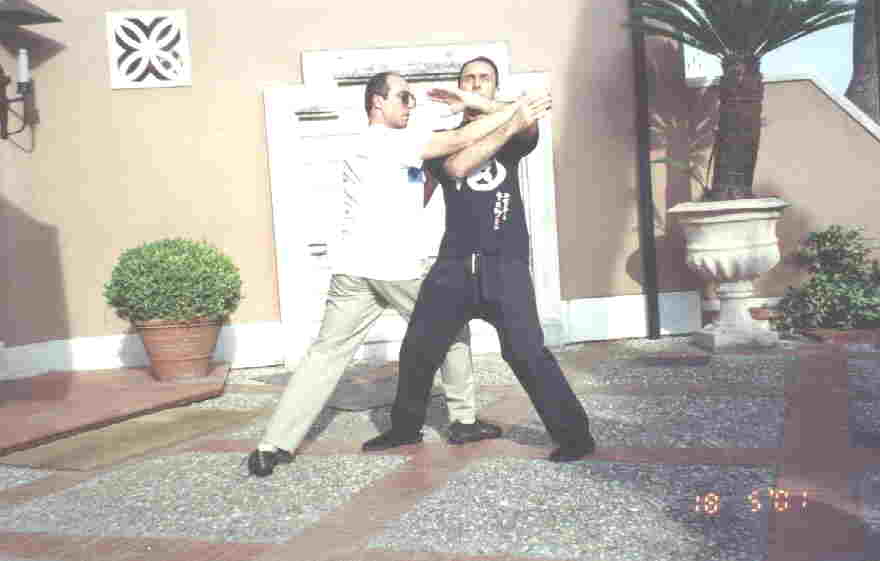 ---
Editorial Note: This is originally meant to be a private webpage for students of Shaolin Wahnam Institute. Nevertheless, as there is not much information on Pushing Hands and Striking Hands although they are crucial aspects of Taijiquan, some explanation is given so that other Taijiquan practitioners may also benefit.
---
Qin-na or gripping techniques may be used by themselves, or in combination with other techniques. For example, you may grip your opponent with one hand and strike him with the other. Or you may grip him with two hands and fell him or kick him with your leg. Some examples can be found in the series on felling attacks and their counters .
Here in this webpage we shall learn some examples of combining gripping techniques with other attack techniques, and their counters.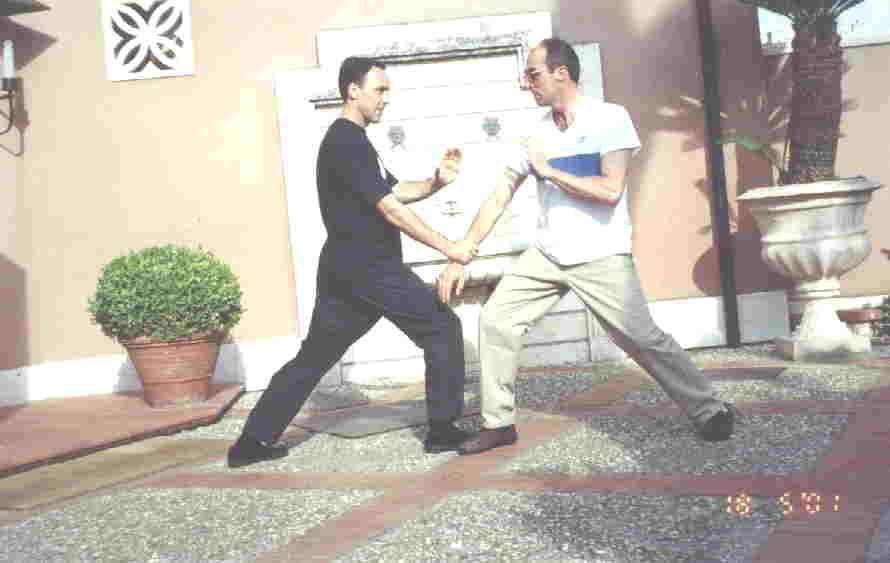 From the Pushing Hands position and following Attilio's momentum, Roberto uses his right hand to grip Attilio's right wrist and simultaneously strikes Attilio's throat with his left finger-thrust.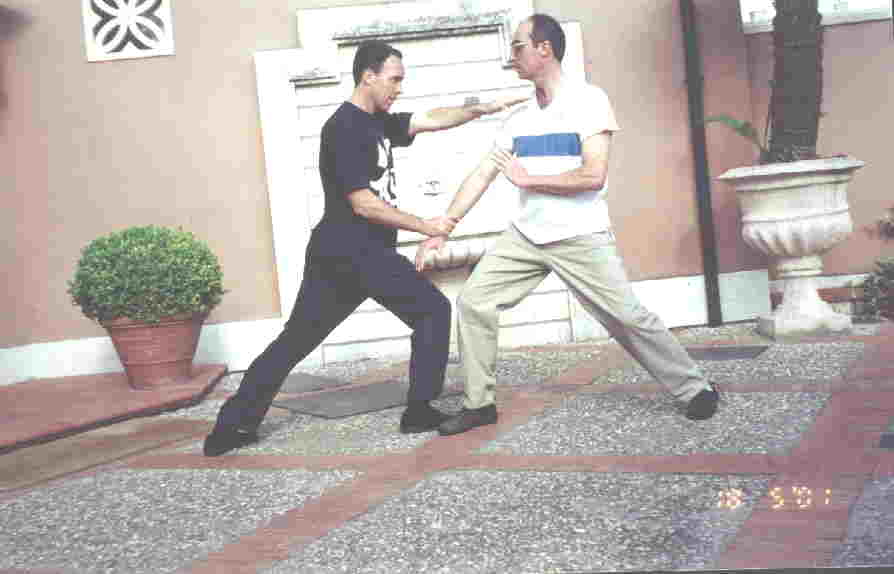 To overcome this attack is quite easy -- if you know how. Just relax and perform the "ward-off" or "peng" technique. Remember that the movement of the technique comes from your waist, and not from your shoulder. This one "ward-off" technique is enough to overcome both gripping and striking attacks.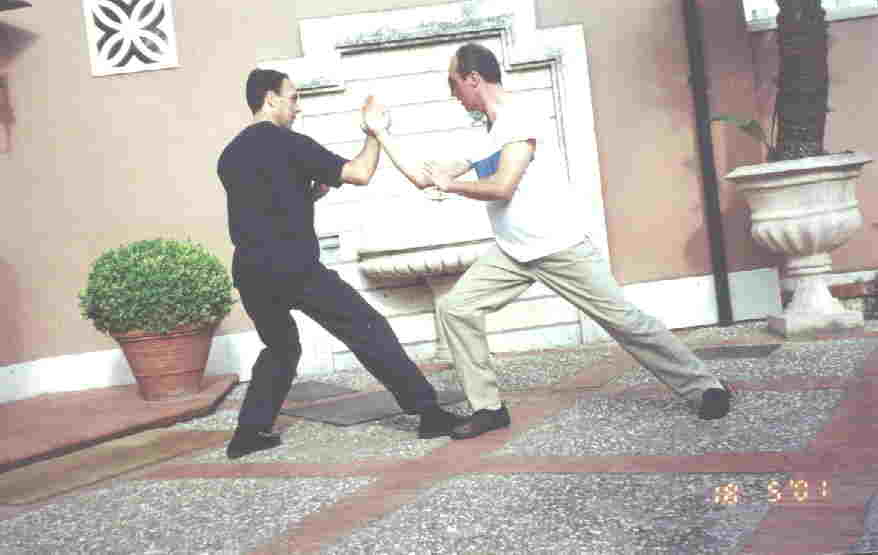 Later, when you are skilful in these techniques, you and your partner may add another technique. For example, after warding off, Attilio may counter-attack with a left side kick. Roberto will respond accordingly, in this case, with a "Low Stance Single Whip".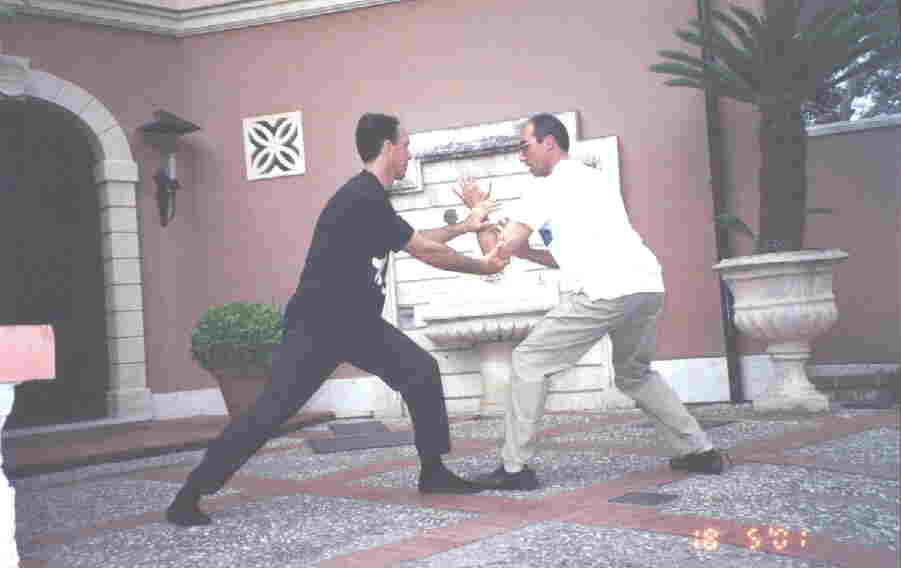 In the next sequence, Roberto and Attilio use the left mode in their Pushing Hands position. Suddenly Roberto grips Attilio's front left wrist with his left hand, and grips Attilio's left elbow with his right hand.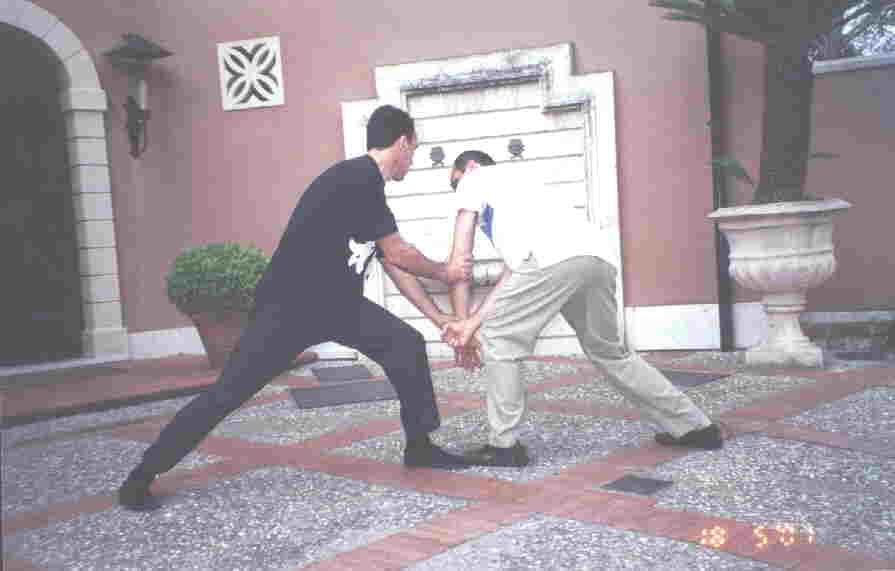 Then Roberto jerks Attilio's left arm downward, making the situation disadvantageous to Attilio. He may grip deeper into some energy points at Attilio's arm, thus making the arm numb, or he may pull Attilio to fall onto the ground. But iInstead of pulling back with strength, Attilio relaxes his left arm, and following the jerking momentum, performs the "ward-off" or "peng" technique.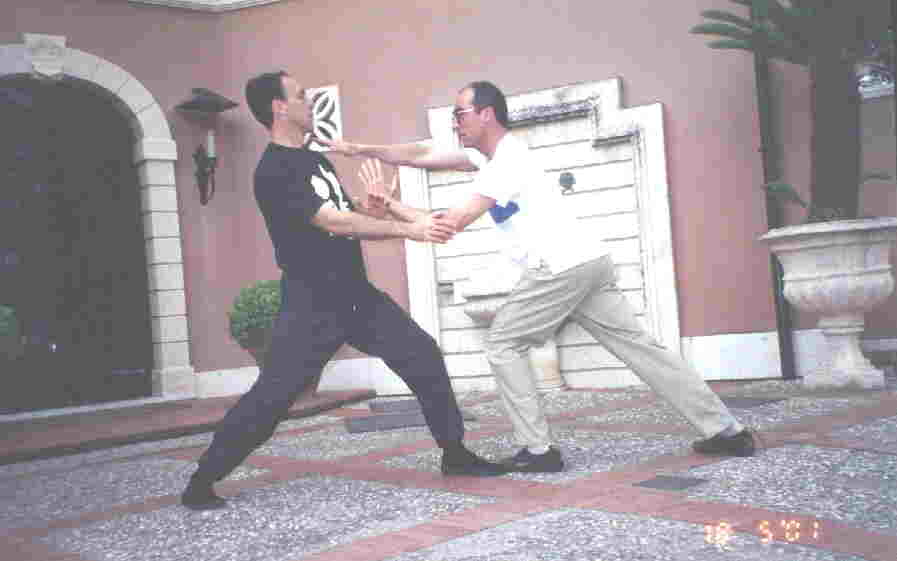 This will cause Roberto to release his both grips. Immediately Attilio counter-attacks with a right finger-thrust to Roberto's throat.
In the warlier sequence Roberto uses one hand to grip Attilio's arm, but in this sequence he uses two hands for gripping. Irrespective of whether Roberto uses one or two hands for his grip, Attilio can release the grip with the "peng" technique. Remember that both the movement and the power come from the waist, and not from the shoulder or the elbow.
Later when you are skilful, you and your partner may each add an extra technique to the sequence. For example, Roberto may move back his left leg and simultaneously grip Attilio's left arm, pulling him to fall forward. Attilio will respond accordingly. He may roll forward a step and spread his left arm, felling Roberto backward.
In the next sequence, Roberto seems to have manipulated Attilio into a precarious position. But with a shilful move, Attilio turns the table on Roberto.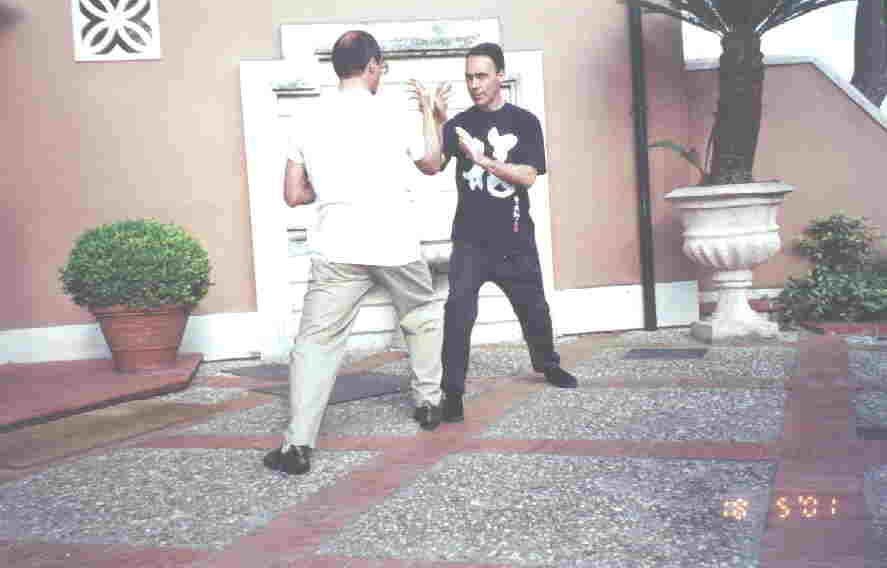 Attilio and Roberto observe each other from their Pushing Hands position. Sensing an opportunity, Roberto moves swiftly to Attilio's right side and twists Attilio's right arm to his back.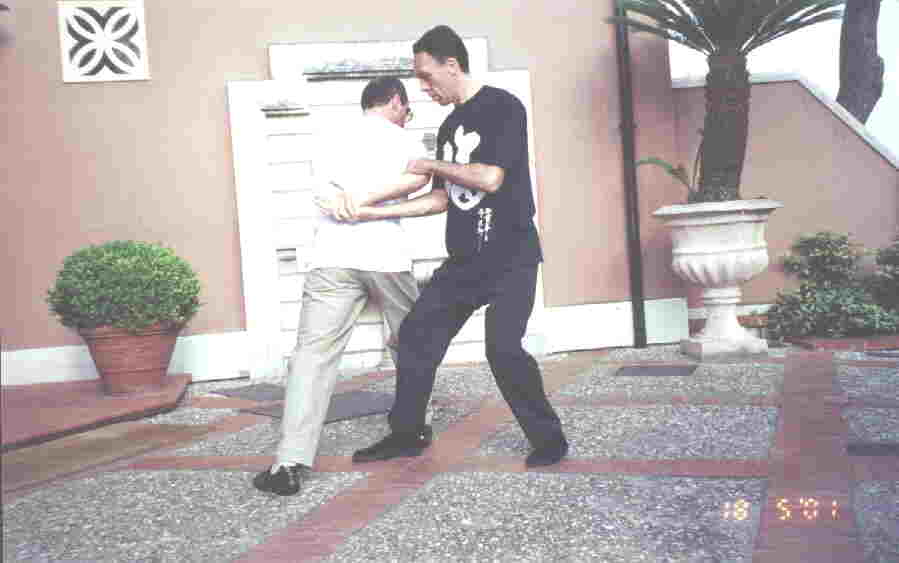 Now Roberto may dislocate Attilio's shoulder or elbow, grip deep into Attilio's vital points, press Attilio onto the ground, or release one hand to strike Attilio.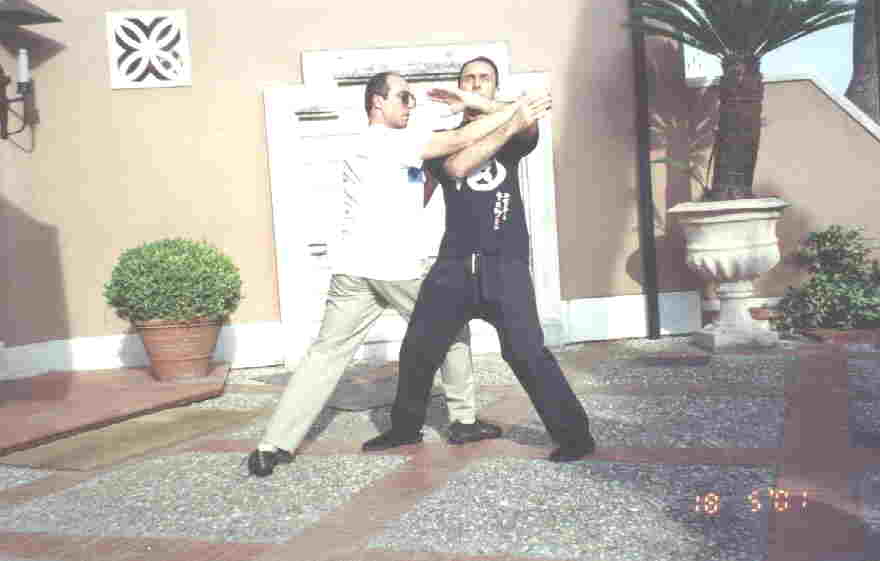 But Attilio moves his left back leg slightly forward to his left side to neutralize Roberto's footwork leverage, and simultaneously straightens his right arm following Roberto's attacking momentum.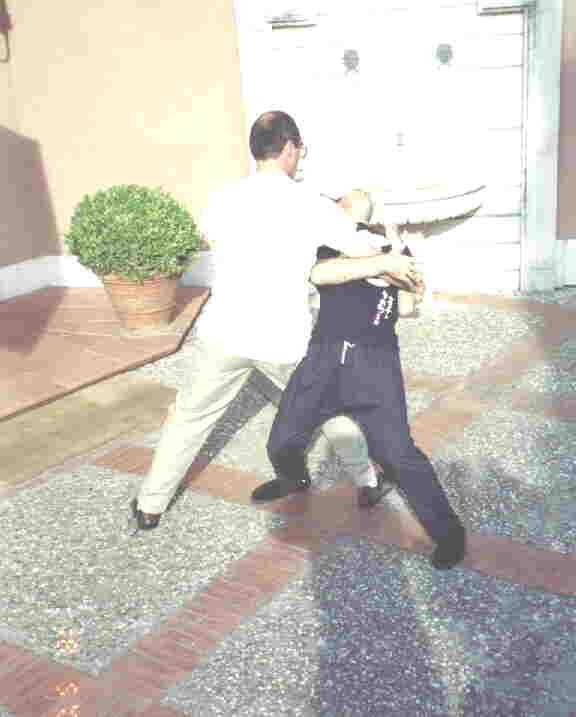 Then by rotating his body at his waist to his left, and swinging his right straightened arm gracefully against Roberto's body on the way, Attilio fells Roberto instead. As in all attack and defence situations, a firm stance is important.
The counter-attack is simple and effective. It works marvellously if you just follow the instructions above, without adding anything on your own. The instructions "rotating your body at your waist" and "swinging your arm gracefully" are crucial. If you move from your shoulder or use brutal strength, you would not be doing Taijiquan, and thus be unable to effect the counter-attack. Remember that graceful movements and energy flow are the hallmarks of Taijiquan.
Taijiquan Pushing Hands
Taijiquan Striking Hands
LINKS
Instructional Review
Courses and Classes