EAGLE CLAW SEQUENCES 11 - 20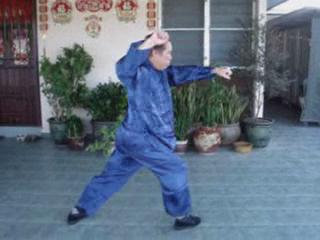 ---
Fifty Sequences of Eagle Claw Kungfu - Part 2
In appreciation for some kungfu skills Grandmaster Wong shared with him, Sifu Yeong Khuen Chi, who is in the direct lineage of Sifu Chen Tzi Ching and is the Chief Instructor of Georgetown Chin Woo Association in Penang, shared the secrets of Eagle Claw Fifty Sequences with Grandmaster Wong in the 1970s. Sifu Yeong Khuen Chi is the sidai (junior classmate) of Grandmaster Wong in Uncle Righteousness' lineage. In fact, Sifu Yeong Khuen Chi is Uncle Righteousness' nephew.
The 50 Sequences of Eagle Claw in solo practice are presented here. Because of the secret nature of Eagle Claw combat application, the corresponding 50 Combat Sequences of Eagle Claw will be made available only to course participants. But to show that Eagle Claw application goes much deeper than what it appears at the surface, some combat applications are revealed.
The names of the sequences in Cantonese pronunciation and English translation are as follows:
Kou Thiew Thai Nget - High Lift Low Press
Soon Pou Khuen - Follow Through Punches
Thui Pou Thun Ta - Retreat Step Continuous Strikes
Khow Jow Thun Ta - Strike Elbow Continuous Strikes
Khong Chow - Turn Sleeves
Leat Khuen - Slip Fist
Swun Foong Sou Yip - Whirlwind Sweeps Leaves
Thiew Sau Liew Yam - Hook Hand Seek Organ
Thun Ta - Continuous Strikes
Khow Ta - Horizontal Strike
---
Please chick the pictures or the captions below to view the videos
---
Sequences 11 - 20 of Eagle Claw Kungfu in Solo Performance
---
You can view all the 10 sequences in this video by clicking the picture below, or at Vimeo by clicking the caption.
LINKS
Eagle Claw Sequences 11-20
Courses and Classes