EAGLE CLAW SEQUENCES 41 - 50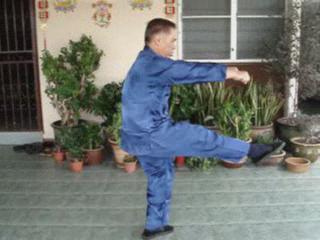 ---
Fifty Sequences of Eagle Claw Kungfu - Part 5
Many people would have heard of the kungfu saying "nam khuen pak theui" ("nan quan bei tui" in Mandarin), which means that Southern Shaolin Kungfu is noted for its fists, whereas Northern Shaolin Kungfu is famous for its kicks.
This saying, however, is only a general description to compare the strong points between Northern and Southern Shaolin Kungfu. We must not be limited by the saying to think that hand techniques are not important in Northern Shaolin or kicks are not important in Southern Shaolin. Indeed, Southern Shaolin is famous for is No-Shadow Kicks. And Northern Shaolin, as represented her by Eagle Claw Kungfu, is famous for its hand techniques.
The names of the sequences in Cantonese pronunciation and English translation are as follows:
Hang Pou Thiew Sau - Moving Forward Hook Technique
Sim Chin - Dodge Spread
Thip San Khow Ta - Close Body Support Strike
Sheut San Fatt - Fell Body Technique
Seen Yein Woon Yin - Immortal Changes Shadow
Yip Lei Choong Fa - Hide Flower in Leaves
Chin Chap Pou - Front Thrust Leg
Hou Chap Pou - Back Thrust Leg
Chai Pou Seong - Forward Together
Cheen Hou Thiew Thui - Front Back Jumping Leg
---
Please chick the pictures or the captions below to view the videos
Sequences 41 - 50 of Eagle Claw Kungfu in Solo Performance
---
You can view all the 10 sequences in this video by clicking the picture below, or at Vimeo by clicking the caption.
LINKS
Courses and Classes