Fifty Sequences of Eagle Claw Kungfu - Part 3

EAGLE CLAW SEQUENCES 21 - 30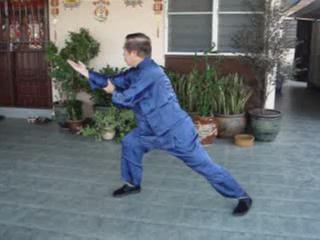 Grandmaster Wong has much respect for Eagle Claw Kungfu and wishes to pass on the art to interested members of our school. Hence a special Eagle Claw Kungfu course will be offered at the UK Summer Camp 2009. To enable course participants to prepare themselves well to get the best benefits from the course, Grandmaster Wong has recorded the 50 Eagle Claw Sequences in solo practice as well as in combat application in videos.
The 50 Sequences of Eagle Claw in solo practice are presented here. Because of the secret nature of Eagle Claw combat application, the corresponding 50 Combat Sequences of Eagle Claw will be made available only to course participants. But to show that Eagle Claw application goes much deeper than what it appears at the surface, some combat applications are revealed.
Sequences 21 - 30 of Eagle Claw Kungfu in Solo Performance
The names of the sequences in Cantonese pronunciation and English translation are as follows:
Thiew Sau Sim Pou Ta - Hook Hand Dodge Step Strike
Lou Woon - Grasp Wrist
Nai Ta - Lift Elbow
Jow Fa Chim Khuen - Seize Technique Pointed Fist
Thiew Sau Fan Khuen - Hook Hand Reverse Fist
Hu Sau Jow Cham Cheong - Protect Elbow Thrust Palm
Moot Mei - Stroke Eye-Brow
Wai Choong Pou Yuit - Carry Moon in Bosom
Ngoi Poon Khuen - Outward Grip
Chuin Khuen - Spiral Fist
NOTE: You can download the video clip onto your own computer and view them at your leisure. Place your computer pointer at the picture or one of the links, and right click. Choose "Save Target As". Select the directory or sub-directory where you wish to keep the video clip. Click "Save".
---
You can view all the 10 sequences in this video by clicking the picture below, or at Vimeo by clicking the caption.
LINKS
Eagle Claw Sequences 21-30
Courses and Classes