CLOSE-BODY FIGHTING AND RAPID PUNCHES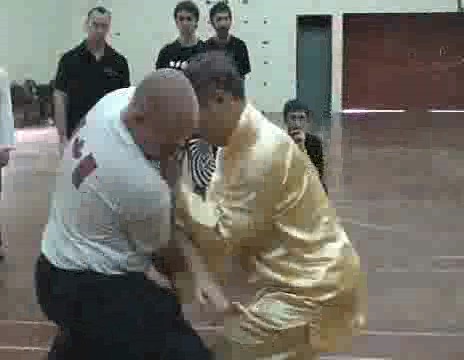 "Close-Body Tiger Claws" is an effective chin-na technique for close-body fighting. It is important that you cover your opponent effective when applying this technique. Of course, there are many counters too.
Many martial artists find it difficult to defend against a series of fast punches. Applying chin-na is an excellent way to counter rapid punches. "Lohan Embraces Buddha" shown here is just one example.
You can read first-hand accounts of the Special Chin-Na Course by Zhang Wuji from his posts in the Shaolin Wahnam Discussion Forum by clicking here .
Please click on the pictures or their captions to view the videos.
Please note: you can download the video clips onto your own computer and view them at your leisure. Enter the webpage (not this one) where the selected video clip can be downloaded. Place your computer pointer at the picture or one of the links, and right click. Choose "Save Target As". Select the directory or sub-directory where you wish to keep the video clip. Click "Save".
---
We would like to express our thanks to Dr Damian, Dr Roseline and Bernadette from Shaolin Wahnam Sabah for making these videos, and Godfery Kissey of Ogingo Videography, Penampang, Sabah, Malaysia (telephone number: 60-88-731788, e-mail godfery@pc.jaring.my for providing the video equipment.
---
Please click the picture or caption below to view the video

Close-Body Fighting and Rapid Punches in Shaolin Chin-Na from Wong Kiew Kit on Vimeo.
LINKS
Glimpses of Special Chin-Na Course
Close-Body Fighting and Rapid Punches
Courses and Classes