AH, ANOTHER BEAUTIFUL DAY!
I think this must rank as one of the worst nights' sleep I've ever had. I just couldn't seem to switch my brain off, not to mention how uncomfortable I was. It also started to get very cold. Fortunately my sleeping bag was on the seat behind me and I managed to drag it across myself. Now all I had to worry about was the condensation dripping down the windows. After 4 hours of trying to fall asleep before discomfort necessitated moving I decided I'd rather be driving. Opening the door to go to the toilet I managed to wake everyone else up. I will remember Sifu's first words that day for the rest of my life: "Ah, another beautiful day!" They were said without a note of sarcasm, his big smile and sheer joy at greeting another day was infectious and I immediately felt better about matters.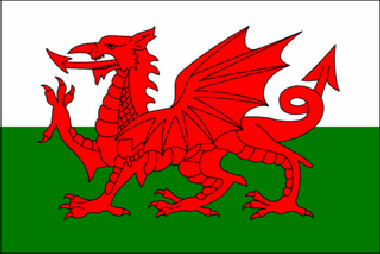 A Friendly Dragon Welcomes Us into Wales
After visiting the washroom we decided to get some warm drinks. Before heading off I stopped the car around the back of the services and we all got out for some morning Lifting the Sky. We must have looked a proper sight! A middle aged handsome Chinese gentleman with 2 scruffy Western guys waving their arms and wobbling around by the side of the road. But I didn't care, being with Sifu and after the sleeping in the car, it seemed like the most sensible thing in the world to do.
Shortly after heading off we were stopped by the police again and told to find an alternative route into Wales as the A44 to Aberystwyth was apparently closed. There were dozens of abandon cars by the side of the road and the fields were invisible under the flood water. Michael plotted an alternative route to Wales, but it involved the M54. Sifu gave his permission for some motorway driving and we were off again.
We had an uneventful if rather beautiful journey into Wales. We could tell when we crossed the border because everything looked the same and yet felt slightly different. Sifu was overjoyed at the amount of sheep and cows in the fields. He kept trying to take pictures of them on his phone camera as I traversed the twisting and winding road. Looking at the map as I write this, the only place name I recognize during this part of our trip is Welshpool, followed by Dolgellau. So we must have been travelling on the A458 followed by the A470.
Every now and then as we passed through a town or village, Sifu would ask me to take a turning and we'd go past people's houses and gain a snapshot of their lives. Slowly I was beginning to realize that driving could be about more than just getting from A to B as quickly as possible. It could also be a way of tasting the country I lived in. Sifu joked, quite correctly, that he had probably seen more of the UK than I had. I retorted by saying I'd seen more UK motorways than he had. But I had to agree that Sifu's way of travelling was growing on me.
Sifu Marcus Santer
---
Have Chi Will Travel
LINKS
Overview