I'M DETERMINED TO FIND THESE PEOPLE SOMEWHERE TO STAY TONIGHT
I think it was after 23:00 hours when we arrived in Moreton-in-Marsh. Sifu asked Michael to stay in the car and explained that he and I would try to secure the night's accommodation. Poor Michael, I think he felt that Sifu thought he was unlucky! Sifu and I walked into the beautiful Redesdale Arms Hotel, and I prayed to Guan Yin for success. It quickly became clear that we had drawn another blank. But what really impressed me was the level of service we were then provided. The member of staff proceeded to call every other hotel in the area, asking each one for further leads. When this proved unsuccessful he went on line trying to find something for us. In his own words: "I'm determined to find these people somewhere to stay tonight". He gave it his best shot for over 30 minutes, but in the end we were out of luck. He explained that due to the flooding many hotels were shut and those that were open where full of travellers who had been unable to complete their journeys.
A beautiful street lamp greeted us
on the deserted road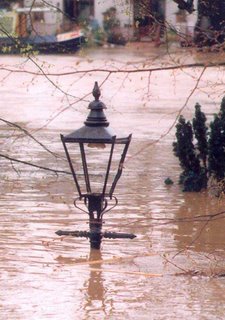 I could have kicked myself. Clare had warned me that very morning that lots of Central and Western parts of England had been suffering severe floods. Sifu, Michael and I had been in Canterbury for the last 14 days, without TV, newspapers or media coverage of any kind. The troubles and the devastation the floods were causing had completely passed us by. Now we were paying for our lack of knowledge. We thanked the man at the Redesdale Arms and went back to give the news to Michael.
I continued driving on the A44 and shortly Sifu and Michael fell asleep. I enjoyed the driving as the road was pleasant and the rain had eased off a little. Then I noticed that wisps of fog were starting to appear. Without further warning the car was plunged into thick fog. A real "pea souper" as someone from Victorian London may have exclaimed. I slowed down to a crawl, unable to see more than a few feet in front of the car bonnet. I turned the head lights off and switched to side lights only. The glare from the head lights was being reflected back by all of the water vapour in the air. By turning them off I was able to see much further.
As quickly as the fog had appeared, we were through it. As I approached Evesham, we encountered further problems as many of the roads were closed. Usually when a road is closed, diversion signs are posted, guiding drivers to their original destination via an alternative route. I could tell there were real problems because no attempt at providing diversions was being made. I just don't think there were any alternative routes. At one point the police turned us back, looking over the policeman's shoulder after asking for directions I could see why. The whole street was under at least 4 foot of water. I gave up trying to stay on the A44 and settled for trying to find a way out. With Sifu and Michael asleep again, I snuck onto the M5 and headed north.
It was about 01:30 hours and I'd had enough driving for one day. I decided to stop at the next services. I got very excited when I saw the sign post for Frankley services, because it had a bed symbol on it. Hurray I thought, I am going to sleep in a bed after all! But as I drove around the site I couldn't find anything that resembled a place to sleep. As I write this I am checking the odd fact, place name etc on the internet to make sure I've got things correct. I have just discovered that Frankley services DOES have a Travelodge. But that it is located on the Southbound M5, and guess what? We were on the Northbound!
So, for the first time in my life, I found myself sleeping in a car. Sifu didn't seem too fazed by this. He got himself into a comfortable seated position with his hands on his knees, closed his eyes and fell fast asleep. Michael (also a sleeping-in-a-car virgin) at over 6ft didn't fair too well in the back. My Peugeot 306 was full to the brim with luggage and various household items (frying pans, toilet rolls etc) that I'd bought for the house in Canterbury and was too tight to leave behind. Michael did his best to find some room, settled down and tried to get comfy.
Sifu Marcus Santer
---
Have Chi Will Travel
LINKS
Overview