I ACTUALLY FOUND MYSELF ENJOYING THE TRIP INTO LONDON
As we checked into the hotel, I could see Sifu was disappointed that his enquiry about internet access had met with the reply that there was none. How on earth Sifu could be prepared to put in a few hours of work on the internet before bed was outside of my comprehension. I then remembered how Sifu had commented that he enjoyed working on his website and Q&A series so much that he didn't consider it to be work at all. Fortunately Sifu took pity on me in my wretched state and we didn't end up looking for alternative "internet ready" lodgings.
I had spoken to my father earlier that evening and asked for his advice about how long to allow for getting to Heathrow from Manchester. Driving forms a large part of his work and he regularly racks up at least 20 000 miles a year on UK roads. He had said that 5 hours would be enough but to allow 2 more to be extra certain. Allowing for an arrival time at Heathrow of 17:30, I estimated that we should be able to leave the Travelodge at 10:00 and make Heathrow in plenty of time. As we walked to our rooms, Sifu said he would like to be on the road by 08:00 and that we would meet for breakfast at 07:00. As previously stated at the start of this narrative, I was keen to avoid having any extra time for driving around London, but at this point in the proceedings I was too tired to care and agreed to call for Sifu at 07:00 hours.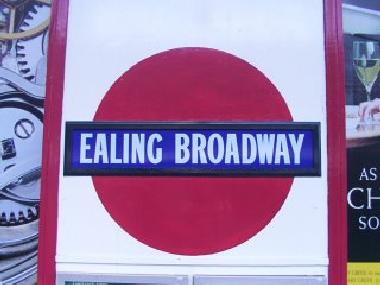 The Journey into London
I felt so much better the next morning and plotted a course for Heathrow, taking us around the outskirts of the Peak District National Park, over to Derby where we could pick up the M1, then South to Heathrow. Stopping for fuel and ice cream at a garage along the way, it soon became obvious to me that we were making brilliant time and would reach the M4 with hours to spare. As it turned out I think it was around 12:30 when we reached junction 4 on the M4 (the Heathrow Airport Junction). With 5 hours to spare, a journey into London was unavoidable. At least this year I was fully aware of the congestion charge and would avoid paying a £50 penalty charge!
The journey into London was much easier than I could have imagined, maybe it was the experience I had accumulated since last year, maybe I was too tired to be worried. But I actually found myself enjoying the trip along the A4020. We passed through Southall which Sifu commented looked like "little India", it was so busy and we made slow progress, not that I was worried, for once I wasn't bothered about running out of time. We stopped in Ealing Broadway for a bite to eat. Walking along the pavement Sifu told me to slow down and suggested that we walk at a more leisurely pace and be like two Welshmen, how could I resist? I meant to call my student Claire Bond to ask for the location of a decent restaurant, but I had left my mobile in the car so we had to rely on my own judgement. Yes you guessed it, I managed to take Sifu to a second rate noodle bar, where we had to share a table and the staff were the most miserable looking people I had seen on our journey.
Unexpectedly this situation set the scene for one of the most poignant conversations I had had with Sifu. It started off as we explored gratitude.
Sifu Marcus Santer
---
Have Chi Will Travel
LINKS
Overview