WHEN TRAVELING WITH SIFU, YOU NEVER REALLY KNOW WHAT WILL HAPPEN
After exploring Caernarfon castle and discussing the pro's and con's of being inside a castle under siege we set off to find somewhere to eat. I managed to keep up my unbroken record of finding terrible places to take Sifu to eat and we enjoyed a very poor pub lunch. Sifu exclaimed that the reason English food tasted so poor was that we don't use enough salt. I had to agree with his logic, though I also felt that over usage of the microwave oven might also be a contributing factor.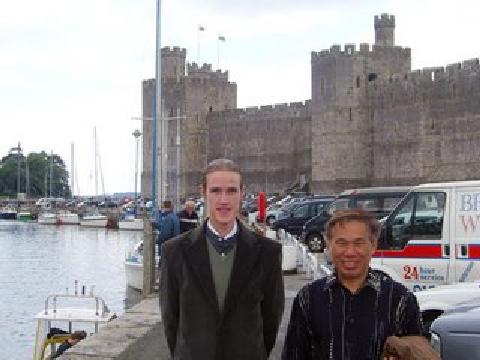 Sifu Michael Durkin and Grandmaster Wong in front of Caernarfon Castle
Michael examined the road map and announced that we were going to Anglesey next. He plotted a suitable course and we set off. We had been very lucky with the rain up till now, it had always managed to stop whenever we got out of the car and had never really been that bad. As we reached the Britannia bridge and crossed onto Anglesey the heavens opened up and let rip a serious down pour. Sifu asked Michael for the map and said it would be nice to go to Holyhead and see where the ferries travelled over to Dublin. He joked that he would like to stand on the sea front and wave at Joan. (Sifu Joan Brown of Shaolin Wahnam Ireland). I found myself praying that Sifu wouldn't want to actually get on the ferry and travel to Ireland! That's one of the many great things of travelling with Sifu, you never really know what will happen.
We made Holyhead in good time and the rain kindly held off whilst we went for a wander around. We stocked up on ice cream and looked out to sea. Returning to the car our trusty navigator decided that instead of zooming back along the A55 to mainland Wales, it would be more fun to take the A5025 that formed a nice semi circle from one side of Anglesey to the other. Once again, we were off. And I was blissfully unaware of the headache to come!
Sifu Marcus Santer
---
Have Chi Will Travel
LINKS
Overview