SOME INTERESTING QUESTIONS FROM FOUR GATES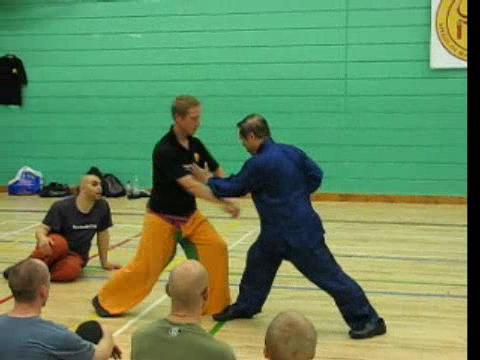 Some interesting questions were raised by the students and answered by Grandmaster Wong. Why the elbow struck the palm in "Flapping Wings", how to perform a low Horse-Stance, and the subtle applications of the Unicorn Step and the "thread palm" were explained. Grandmaster Wong also elaborated on the rotation of the waist, being relaxed in generating internal force, the role of breathing out in breath control, the difference between One-Finger Shooting Zen and Triple Stretch, and the importance of the Six Harmonies.
Please click on the pictures or their captions to view the videos.
Please note: you can download the video clips onto your own computer and view them at your leisure. Enter the webpage (not this one) where the selected video clip can be downloaded. Place your computer pointer at the picture or one of the links, and right click. Choose "Save Target As". Select the directory or sub-directory where you wish to keep the video clip. Click "Save".
---
Please click the picture or caption below to view the video

Some Interesting Questions from Four Gates from Wong Kiew Kit on Vimeo.
LINKS
Four Gates at UK Summer Camp 2008
3. Some Interesting Questions from Four Gates
Cross-Roads at Four-Gates Pages
Courses and Classes