PRACTICING COMBAT SEQUENCES FOR FREE SPARRING AND REAL FIGHTING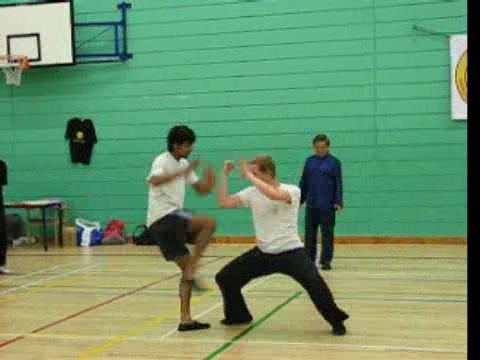 Course participants review Combat Sequences 1, 2 and 3. It is to their credit that despite just having learnt the sequences which contain many sophisticated combat applications, they can perform the sequences quite well. Many people may wonder how we can effectively use these sequences, which are pre-arranged in routine, in free sparring and real fighting where attacks occur at random. Of course we can, if we follow a systematic combat training programme.
Please click on the pictures or their captions to view the videos.
Please note: you can download the video clips onto your own computer and view them at your leisure. Enter the webpage (not this one) where the selected video clip can be downloaded. Place your computer pointer at the picture or one of the links, and right click. Choose "Save Target As". Select the directory or sub-directory where you wish to keep the video clip. Click "Save".
---
Please click the picture or caption below to view the video

Combat Sequences in four Gates for Free Sparring and Real Fighting from Wong Kiew Kit on Vimeo.
LINKS
Four Gates at UK Summer Camp 2008
21. Practicing Combat Sequences for Free Sparring and Real Fighting
Cross-Roads at Four-Gates Pages
Courses and Classes