SKILLS AND TECHNIQUES IN EFFECTIVE COMBAT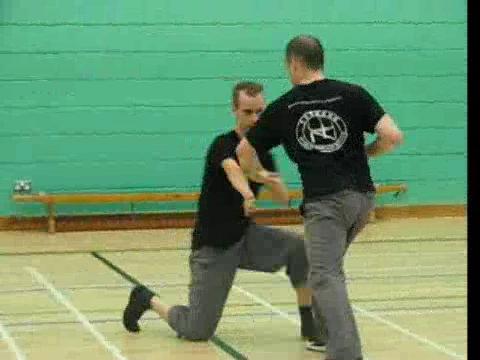 The four combat sequences of "Four Gates" provide some very sophisticated and effective techniques for combat, with attacks that many opponents may not know how to counter, and with counters that many opponents may not expect. But to be combat efficient, it is not sufficient merely to know the techniques. One must be able to apply the techniques spontaneously and correctly, in picture-perfect form, with internal force and in flowing movement. In other words, combat skills are often more important than combat techniques.
Please click on the pictures or their captions to view the videos.
Please note: you can download the video clips onto your own computer and view them at your leisure. Enter the webpage (not this one) where the selected video clip can be downloaded. Place your computer pointer at the picture or one of the links, and right click. Choose "Save Target As". Select the directory or sub-directory where you wish to keep the video clip. Click "Save".
---
Please click the picture or caption below to view the video

Skills and Techniques for Combat in Four Gates from Wong Kiew Kit on Vimeo.
LINKS
Four Gates at UK Summer Camp 2008
25. Skills and Techniques for Combat
Cross-Roads at Four-Gates Pages
Courses and Classes