YELLOW BIRD, RISING DRAGON AND GALLOPING TIGER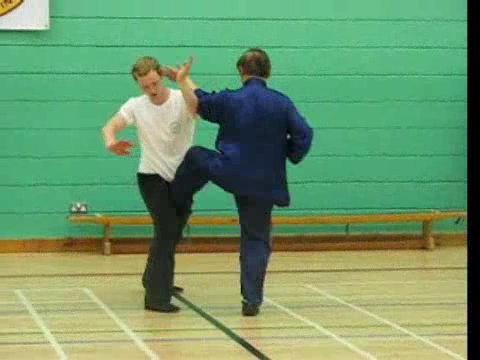 This video series shows the first part of Combat Sequence 4. The organ-seeking kick executed here in the pattern "Yellow Bird Plays with Water" is purposely inconspicuous but deadly, ending combat in just one move. Another pattern that executes the organ-seeking kick is "Rising Dragon Galloping Tiger", which is as effective as it is poetic, striking an opponent's head and groin at the same time.
Please click on the pictures or their captions to view the videos.
Please note: you can download the video clips onto your own computer and view them at your leisure. Enter the webpage (not this one) where the selected video clip can be downloaded. Place your computer pointer at the picture or one of the links, and right click. Choose "Save Target As". Select the directory or sub-directory where you wish to keep the video clip. Click "Save".
---
Please click the picture or caption below to view the video

Yellow Bird, Rising Dragon Galloping Tiger in Four Gates from Wong Kiew Kit on Vimeo.
LINKS
Four Gates at UK Summer Camp 2008
23. Yellow Bird, Rising Dragon and Galloping Tiger
Cross-Roads at Four-Gates Pages
Courses and Classes