THE SPEAR AGAINST THE VERSATILE THREE-SECTIONAL STAFF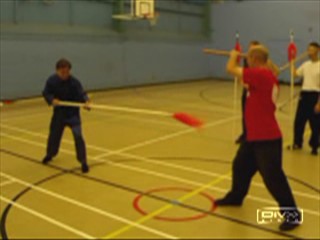 ---
---
The three-sectional staff is a highly versatile weapon. It can be used as a short weapon, a long weapon, a single weapon, a double weapon, a soft weapon or a hard weapon!
When you block one part of the three-sectional staff, another part may hit you. A three-sectional staff may also lock or dislodge your weapon.
How would you use a spear against the versatile three-sectional staff? The circling and the shooting techniques of a spear can be very useful counters against many three-sectional staff attacks.
---
A picture-series and a video series of the set can be found here and here respectively.
---
Please click the pictures or the captions below to view the videos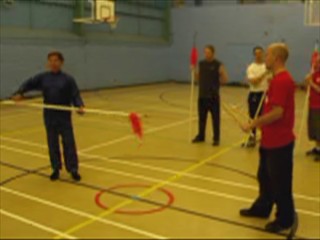 Spear Shoot against Any Weapon
The spear shoot can be used against any weapon. Due to its length, you can retreat and shoot out the spear at the same time. Your opponent could not reach you with his weapon, but you can shoot your spear into him. The lightness of the spear enables you to perform this technique fast and smoothly.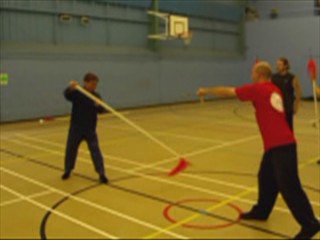 Unwise to Block a Soft Weapon
As a three-sectional staff is soft, when you block its horizontal sweep, it may still bounce onto you. Hence, blocking a soft weapon like a three-sectional staff is unwise. But when you circle it with your spear, you must ensure that you are circling its momentum, and not the weapon itself, otherwise it may lock your spear and dislodge it from your hands.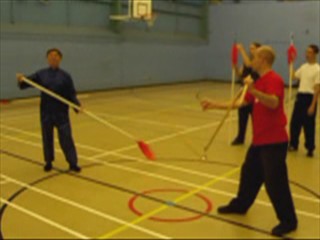 Attack from Various Sections of the Three-Sectional Staff
A three-sectional staff can still hit you when you block it. If you block its second section, its third section and hit you. If you block its third section, its second section may bounce onto you, or the opponent may use the first section to strike you.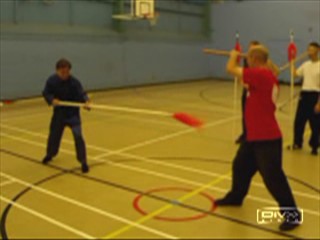 Circling with Contact of the Staff
When you circle the horizontal sweep of the three-sectional staff, none of its sections can hit you. If you are skillful, you may make contact with the staff, as shown in this video. Making contact, but without being locked by the staff, enhances your control of the situation.

---
You can view all the videos above by clicking the picture or the caption below

Spear against Versatile Three-Sectional Staff from Wong Kiew Kit on Vimeo.
---
Review of UK Summer Camp 2007 Weapon Course
---
Traveling Dragon Spear and its Combat Applications
LINKS