DIFFERENT WAYS OF TURNING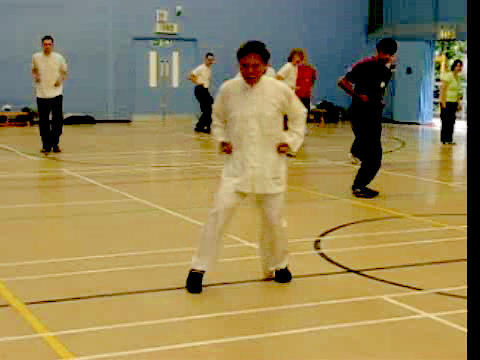 ---
---
You may be surprised that to enhance combat efficiency, many considerations are involved when you turn from one direction to another. In other words, if you wish to turn from the front to the left, it is not just turning from the front to the left.
The most obvious factor is direction. Suppose you are facing north. When you turn left, you will be facing west. There are eight major directions which correspond to the compass points, namely north, south, east, west, north-east, north-west, south-east and south-west.
Another consideration is leg-mode. Suppose you start with your left leg in front and complete your turning still with your left leg in front. This is referred to as left-to-left. If you complete with your right leg in front, it is left-to-right. You may also turn with right-to-left or right-to-right.
The point of reference for your turning can be your front leg, a mid-point between your two legs, or your back leg. They are referred to as front-point reference, mid-point reference and end-point reference.
You may move to a new direction by turning your body clockwise or anti-clockwise. This turning movement should not be confused with your leg-approach, which may be yin or from inside, yang or from outside, straight.
By an interplay of these factors — direction, leg-mode, reference-point, turning movement and leg-approach — you can have a variety of turning from one direction to another. At high-level combat, choosing a right mode of turning can make a big difference between victory and defeat.
Please click on the pictures or their captions to view the videos.

Please note that you can download the video clips onto your own computer and view them at your leisure. Enter the webpage (not this one) where the selected video clip can be downloaded. Place your computer pointer at the picture or one of the links, and right click. Choose "Save Target As". Select the directory or sub-directory where you wish to keep the video clip. Click "Save".
---
---
You can view all the videos by clicking the picture below to view the videos on this page, or clicking the caption to view the videos at Vimeo.
Various Ways of Turning in Shaolin Kungfu from Wong Kiew Kit on Vimeo.
---
---
Tantui Course at UK Summer Camp 2007
---
Other reviews of Tantui courses held in Toronto and Frankfurt can be found at
LINKS