IF YOU USE A LOT OF KICKS, YOU SHOULD ALSO KNOW THEIR COUNTERS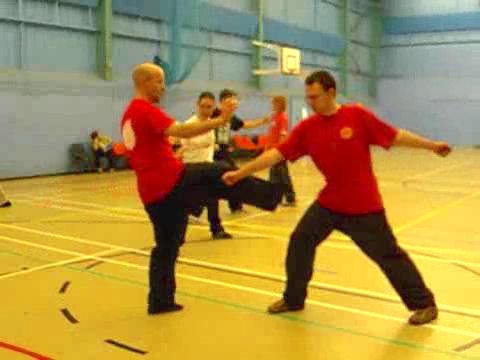 ---
---
Shaolin Tantui is famous for its kicks. Some martial artists may be surprised as they may not see many obvious kicking techniques in a Tantui demonstration as they would normally see in martial arts associated with kicks like Taekwondo and Muay Thai. The main reason is that the kicks are purposely made inconspicuous.
Another difference between Tantui and other kicking arts is that there are also many effective counters against kicks, although many martial artists, including many Tantui practitioners themselves, may be aware of it. It is logical in kungfu philosophy. If you use a lot of kicks yourself, you should also know a lot of counters against kicks. Being able to neutralize your own attacks.will not only prevent you from being defeated by your own techniques, but also enhance the understanding and application of your attacks. This, however, does not seem to be the case in Taekwondo and Muay Thai.
---
Please click on the pictures or their captions to view the videos.
Please note that you can download the video clips onto your own computer and view them at your leisure. Enter the webpage (not this one) where the selected video clip can be downloaded. Place your computer pointer at the picture or one of the links, and right click. Choose "Save Target As". Select the directory or sub-directory where you wish to keep the video clip. Click "Save".
---
---
You can view all the videos by clicking the picture below to view the videos on this page, or clicking the caption to view the videos at Vimeo.
If You Use a Lot of Kicks, You Should Know their Counters from Wong Kiew Kit on Vimeo.
---
---
Tantui Course at UK Summer Camp 2007
---
Other reviews of Tantui courses held in Toronto and Frankfurt can be found at
LINKS