BO-FA AND SHEN-FA OR FOOTWORK AND BODY-MOVEMENT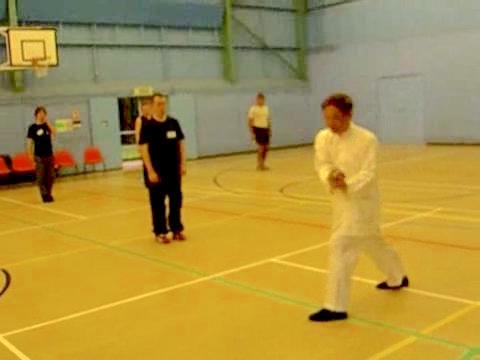 ---
---
A common mistake many martial artists make is focusing only on their hand forms but neglecting their footwork and body-movement. If they carry on in this way, they establish this fundamental mistake even when they have practiced their arts for many years. In other words, they have neglected their basics.
Footwork is not just how to move in correct stances. It includes, among other aspects, the appropriate positioning of the feet and the rotation of the knees. If you move forward to a Bow-Arrow Stance by throwing your knee forward and pointing your toes straight-ahead, for example, you may not only injure your knees and also expose yourself to risky surprised attacks.
A crucial aspect of body-movement is the rotation of the waist. This is especially emphasized in Taijiquan, but is also important in Shaolin Kungfu. Amongst other benefits, rotating the waist minimize an opponent's force and maximize your own.
---
Please click on the pictures or their captions to view the videos.
Please note that you can download the video clips onto your own computer and view them at your leisure. Enter the webpage (not this one) where the selected video clip can be downloaded. Place your computer pointer at the picture or one of the links, and right click. Choose "Save Target As". Select the directory or sub-directory where you wish to keep the video clip. Click "Save".
---
---
You can view all the videos by clicking the picture below to view the videos on this page, or clicking the caption to view the videos at Vimeo.
Bo-Fa and Shen-Fa or Footwork and Body-Movement from Wong Kiew Kit on Vimeo.
---
---
Tantui Course at UK Summer Camp 2007
---
Other reviews of Tantui courses held in Toronto and Frankfurt can be found at
LINKS