THE THREE HARMONIES OF LEGS, BODY AND HANDS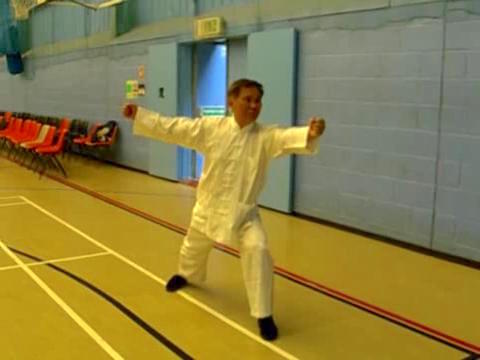 ---
---
Many of our students are amazed that they could learn kungfu sets from us very quickly. A main reason is that we place great emphasis on the basics. Once we perform the basics well, we can learn any patterns quickly. It is like when you can type well, you can type any documents.
The basics of the patterns are the three harmonies, a term sometimes mentioned but seldom understood. Kungfu classics often explain the three harmonies as the feet harmonize with the body, the body harmonizes with the hands, and the hands harmonize with the feet. As usually the case in the kungfu classics, the explanation was not meant for public consumption but as a reminder for practitioners who had gone through the the three harmonies themselves
---
Please click on the pictures or their captions to view the videos.
Please note that you can download the video clips onto your own computer and view them at your leisure. Enter the webpage (not this one) where the selected video clip can be downloaded. Place your computer pointer at the picture or one of the links, and right click. Choose "Save Target As". Select the directory or sub-directory where you wish to keep the video clip. Click "Save".
---
---
You can view all the videos by clicking the picture below to view the videos on this page, or clicking the caption to view the videos at Vimeo.
Three Harmonies of Legs, Body and Hands from Wong Kiew Kit on Vimeo.
---
---
Tantui Course at UK Summer Camp 2007
---
Other reviews of Tantui courses held in Toronto and Frankfurt can be found at
LINKS