APPLICATIONS OF SINGLE SPREAD AND BREAKING LOCK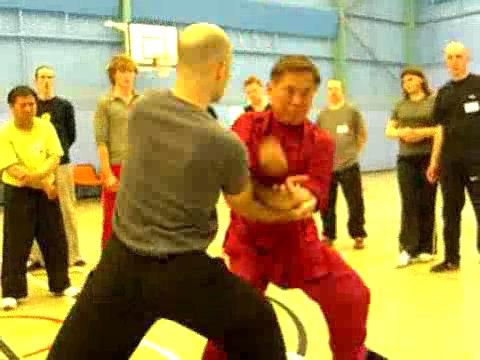 ---
---
"Single Spread" and "Breaking Lock" are different techniques though they appear similar because "Breaking Lock" often includes the spreading arm technique.
"Single Spread" is excellent for breaking opponent's arms, whereas "Breaking Lock", as its name implies, is meant for breaking opponent's locks.
---
Please click on the pictures or their captions to view the videos.
Please note that you can download the video clips onto your own computer and view them at your leisure. Enter the webpage (not this one) where the selected video clip can be downloaded. Place your computer pointer at the picture or one of the links, and right click. Choose "Save Target As". Select the directory or sub-directory where you wish to keep the video clip. Click "Save".
---
---
You can view all the videos by clicking the picture below to view the videos on this page, or clicking the caption to view the videos at Vimeo.
Applications of Single Spread and Breaking Lock in Shaolin Tantui from Wong Kiew Kit on Vimeo.
---
---
Tantui Course at UK Summer Camp 2007
---
Other reviews of Tantui courses held in Toronto and Frankfurt can be found at
LINKS