SIMPLE IN APPEARANCE BUT PROFOUND IN APPLICATION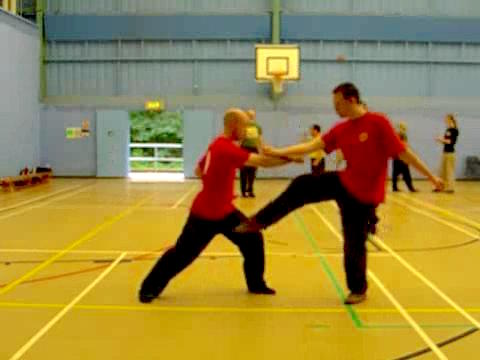 ---
---
Tantui is very popularly practiced today, but unfortunately the great majority of Tantui practitioners only perform the solo forms without understanding their combat application. They may be very surprised that all the Tantui patterns are very useful for fighting?
Indeed, if one is fluent in just Tantui Sequence 1, which is called "Thrust Punch", he can be quite a formidable fighter. Imagine how combat efficient a Tantui master will be when he is fluent in all the twelve Tantui sequences. The Tantui patterns may look simple, but they can be quite profound.
For example, the pattern "Roll Elbow", known in Southern Shaolin as "Crow Flaps Wings", has many other combat functions besides being an effective elbow strike. It can be used to release an opponent's grip or to fell an opponent.
---
Please click on the pictures or their captions to view the videos.
Please note that you can download the video clips onto your own computer and view them at your leisure. Enter the webpage (not this one) where the selected video clip can be downloaded. Place your computer pointer at the picture or one of the links, and right click. Choose "Save Target As". Select the directory or sub-directory where you wish to keep the video clip. Click "Save".
---
---
You can view all the videos by clicking the picture below to view the videos on this page, or clicking the caption to view the videos at Vimeo.
Simple in Appearance, Profound in Combat Application from Wong Kiew Kit on Vimeo.
---
---
Tantui Course at UK Summer Camp 2007
---
Other reviews of Tantui courses held in Toronto and Frankfurt can be found at
LINKS