SURPRISE YOUR ATTACKER WITH A COUNTER-ATTACK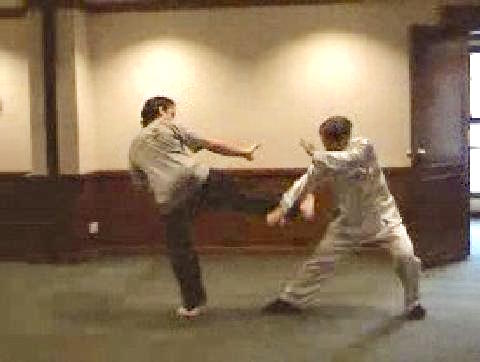 Grandmaster Wong neutralizes a surprised kick from Sifu Ronan as he moves in to attack
---
As you move in to attack, you must be ready for a sudden counter-attack from your opponent. You need to neutralize these surprised counters and continue your intended attacks.
Three types of surprise counters are dealt with, namely striking, kicking and gripping. Felling is seldom used as a surprised counter because it needs a few moves to fell an opponent. Hence the counter is no longer a surprise. However, a skillful exponent may use it successfully.
Asking the way as well as harmonies of hand, body and feet are necessary when neutralizing a surprised counter. Notice that even when you move forward to attack, you must start from your back (not front) leg, rotate your waist, and end with your hand. If your throw your body forward as you rush in to attack, which doing the opposite, i.e. starting with your hand, throwing your body and ending with your leg as in Boxing, it would be difficult to neutralize an opponent's sudden attack if he makes a surprised counter.
On the other hand, using a surprised counter as an opponent rushes in to attack is an effective way to defeat him, especially if you follow up with continued attacks. Good judgment, right time and right spacing are important in executing surprised counters. But surprised counters should be used as a surprise, and not every time your opponent attacks.
The video galore below shows the learning and practice of this important aspect of combat. Take note that in the practice sessions, not every attack is met with a surprised counter.
Please note that you can download the video clips onto your own computer and view them at your leisure. Place your computer pointer at the picture or one of the links, and right click. Choose "Save Target As". Select the directory or sub-directory where you wish to keep the video clip. Click "Save".
---
Video Galore on Surprised Counters
Please click on the images below to view the videos
---
---
You can view all the videos above by clicking the pictures or the captions below

Surprise your Attavker with a Counter-Attack -- Part 1 from Wong Kiew Kit on Vimeo.




Surprise your Attacker with a Counter-Attack -- Part 2 from Wong Kiew Kit on Vimeo.




Surprise your Attacker with a Counter-Attack -- Part 3 from Wong Kiew Kit on Vimeo.



---
---
Fundamental Shaolin Kungfu Training Programme of Shaolin Wahnam
1. Stances: the Foundation for Internal Force and Combat Efficiency
2. Footwork Secrets for Health, Efficiency and Elegance
3. Moving into a Same Direction using Different Ways to Gain Advantages
4. Picture-Perfect Forms and Flowing Movements
5. From Random Fighting to Patterns, and from Patterns to Sequences and Sets
6. One-Step Sparring to Develop Combat Skills
7. From Pre-Arranged Sparring to Guided Sparring
8. Using Techniques and Tactics in Sparring
9. The Five Basic Kicks
10. The Secrets of Side Kicks and Continuous Cannons
11. How You may Defeat Opponents Experienced in Random Free Sparring
12. How Would a Fragile Girl Counter a Powerful Sweeping Kick from a Muay Thai Fighter?
13. Shaolin Felling Techniques and their Defences
14. Safety First Before Executing Felling Techniques
15. From Combat Sequences to Free Sparring
16. Sixteen Combat Sequences and Five Kungfu Sets
17. Surprise your Attacker with a Counter-Attack
18. Working out Ways to Fight a Boxer
19. Effective Tactics and Techniques against Boxers
20. From Gross Outline to Fine Details
21. Exploiting Advantage to Clinch Victory
22. Variety of Kungfu Techniques against Boxers
23. Analysis of Techniques Used against Boxers
24. Using Shaolin Kunfu against Boxing in Free Sparring
25. Effective Shaolin Tactics and Techniques against Kick-Boxing
26. Shaolin Kungfu against Kick-Boxing in Free Sparring
27. How to Handle a Karate Exponent
28. How to Handle a Taekwondo Exponent
29. How to Handle a Wrestling Exponent
30. Understanding the Typical Attacks of Muay Thai Fighters
31. Grandmaster Ho's Secrets in Countering Muay Thai Fighters
32. First Avoid Defeat, Then Secure Victory
33. Counteroing the Elbow and Knee Attacks of Muay Thai Fighters
LINKS
Courses and Classes