PRACTICING ON YOUR OWN, THEN TESTING IT ON YOUR PARTNER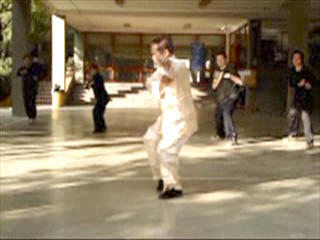 ---
---
Like any other combat movements, the various steps of chase become fluid, fast and spontaneous only after systematic training. You should practice the movements on your own, testing them out with sparring partners only after you have become quite proficient.
Initially, go over the movements slowly and correctly. Understandably you may be hesitant at first, but with continued practice your movements will be fast and spontaneous.
The movements shown in the video clips below are examples. While there are definite principles and guidelines, there are no fixed movements in the chase, it follows the spacing and direction of the opponent's retreat.
---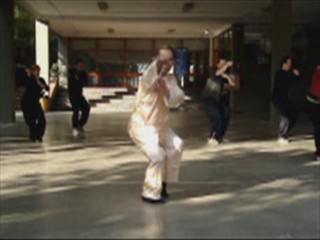 Mechanics of the Chase
Grandmaster Wong shows the mechanics of the chase. After taming a Boxer's jab, you apply a triple attack to appropriate parts of his body, including his upper arm. If he moves away, you pursue with the appropriate chase. Notice that the leopard punch, whose characteristic is speed, is more advantageous than a level fist when striking a Boxer.
The size of the video clip is 1.67 mb.
Click here to download
---
---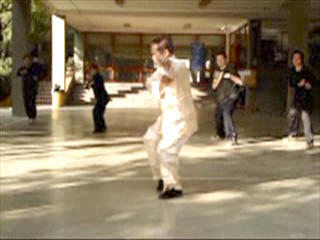 Refining Movement and Spacing with Appropriate Stances
Grandmaster Wong slows down the movement of his chase to show how he can refine his movement and spacing by using appropriate stances. In a chase, irrespective of the number of steps he makes, he can vary his reach by using a False-Leg Stance, a Bow-Arrow Stance or a reversed T-Stance. Also he does not need to stop his movement while regulating the spacing.
The size of the video clip is 1.27 mb.
Click here to download
---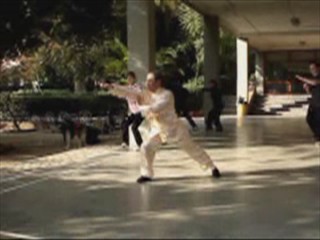 The Chase should be Fast and Spontaneous
Grandmaster Wong again demonstrates how the refinement in movement and spacing is achieved. Initially your movement may be slow and hesitant, but with practice it should be fast and spontaneous. No matter how an opponent retreats, he will still find you covering his defence and striking him.
The size of the video clip is 0.66 mb.
Click here to download
---
Please click the picture or the caption to view the video

Practicing on your Own, then Testing it on your Partner from Wong Kiew Kit on Vimeo.
---
You can view all the videos here
---
---
Basic Shaolin Kungfu against Boxing, Kick-Boxing, Muay Tahi and Wrestling
---
LINKS