THE TACTICS OF CLOSING AND OF OPENING A BOXER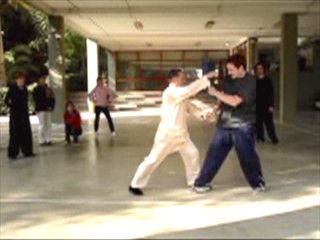 ---
---
Closing a Boxer to strike him is an effective tactic. "Single Tiger Emerges from Cave" and "Wave Dragon Back to Cave" are useful patterns to brush away a Boxer's attacks and close him.
If it is not feasible to close the Boxer, you can open him by intercepting his attacks. "Immortal Emerges from Cave" is useful for this purpose.
In either case, the Boxer cannot not advance or attack you. His likely choice is to retreat, in which case you chase after him, striking him on the way.
---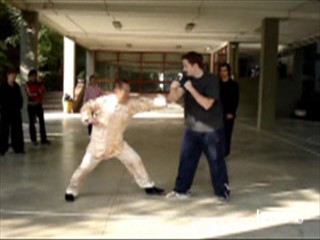 Employ Dragons and Immortals
Grandmaster Wong shows another effective tactic against a Boxer. Use "Wave Dragon Back to Cave" to close the Boxer, or open him with "Immortal Emerges from Cave". The Boxer is quite helpless here.
The size of the video clip is 1.44 mb.
Click here to download
---
---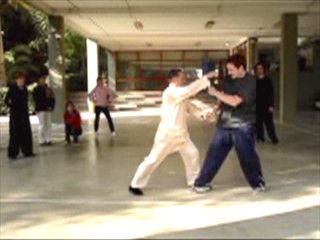 Size and Weight becomes Unimportant
Now Grandmaster Wong and Tim who poses as a Boxer, perform their movements fast. Although Tim is bigger and heavier than Grandmaster Wong, he is quite helpless as Grandmaster Wong attacks him with the tactics taught to the participants.
The size of the video clip is 0.96 mb.
Click here to download
---