PRACTICING NUMEROUS TACTICS AGAINST BOXERS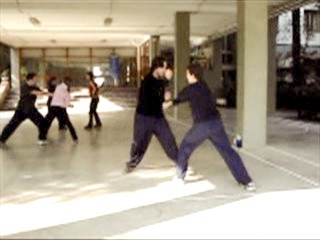 ---
---
Students practice applying tactics of closing, striking and chasing against Boxers. It is very important to cover the Boxers adequately before attacking them.
---
Please click the pictures or the captions below to view the videos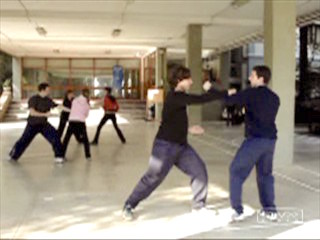 Closing with Left Hand, Striking with Right Hand
Participants apply the tactics in handling a Boxer. Basically they close the Boxer with their left hand as he attacks, then counter-attack him with their right hand. In the foreground are Alex and Donovan.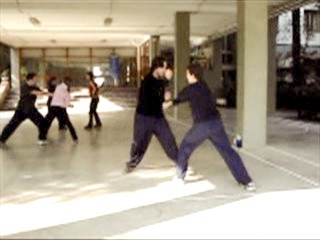 How to Gain an Advantage over a Boxer
Now Alex and Donovan have reversed roles. Although Donovan is able to prevent the Boxer, posed by Alex, from gaining any advantage, he has no advantage over the Boxer. Do you know why?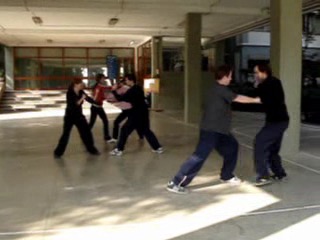 Pressing a Boxer Backward and Striking him
Now Tim, using Shaolin Kungfu, has an advantage over a Boxer, posed by Alex. He is able to press the Boxer backward and strike him. The Boxer has little opportunity of striking back. How is Tim able to do so?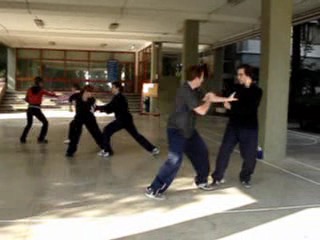 Employing Effective Tactic against Boxer
Again Tim can press the Boxer back and strike him, whereas the Boxer is unable to hit back. Tim is able to do so because he employs the tactic of closing the Boxer with a left Tiger-Claw and striking him with a right punch.

---
You can view the video clips above by clicking the picture or the caption below

Practicing Numerous Shaolin Tactics against Boxers from Wong Kiew Kit on Vimeo.
---
You can view all the videos here
---
---
Basic Shaolin Kungfu against Boxing, Kick-Boxing, Muay Tahi and Wrestling
LINKS