PROGRESSING TO REALISTIC SPARRING WITH A BOXER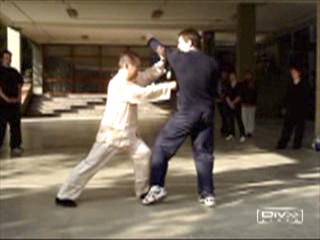 ---
---
Having learnt the various counters against a Boxer's jabs and crosses, we can now progress to more realistic sparring with the Boxer. A good strategy is to close the Boxer, giving him little opportunity to counter-attack, and then strike him.
Instead of closing a Boxer, we can also open him to attack. Using the left hand to guard or pave the way, and the right hand to strike is an effective strategy.
A Boxer is not only fast, but he often uses feint moves. A good tactic is to cover his moves, irrespective of whether they are feint or real, thus preventing him from continuing his attack. Good body-movement and footwork are needed to implement this tactic successfully.a
At this early stage of our training, we limit a Boxer's attacks to jabs and crosses, which are his main techniques. Hooks and undercuts will be dealt with later.
---
Please click the pictures or the captions below to view the videos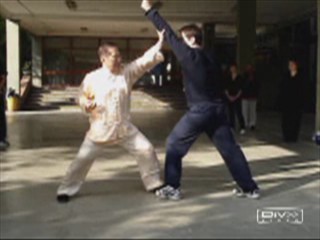 Floating Fast Continuous Jabs
Cover the left jab of a Boxer with your left hand, and follow up with a right strike. But the Boxer pulls back his left jab and jabs again. Reflexively float the Boxer's second jab, thus preventing him from attacking further, and counter-strike with a Black Tiger.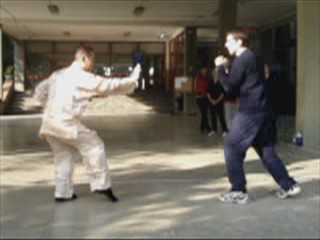 Opening an Opponent's Defence
If you fail to cover or float a Boxer's jabs, or if he succeeds in escaping from your coverage and continues jabbing, you can open his defence, then move in to counter-strike. You must have right spacing when striking, and you must also ensure he cannot attack you at the same time while you strike him.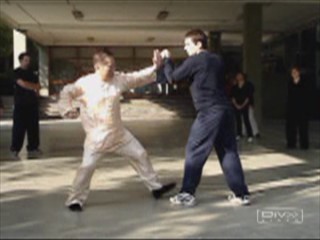 Importance of Body-Movement and Footwork
The scenario is repeated. The combat situation is similar but the movements are spontaneous. Good body-movement and footwork are necessary. Together with the hand techniques, they constitute the three external harmonies.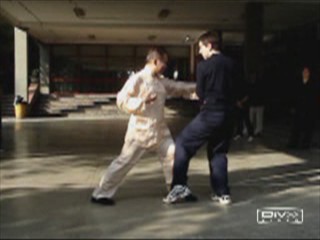 Attacking with Leopard Punches
Close the Boxer effectively, giving him no opportunities to counter-strike. As the opponent's front body is close, attack his ribs, throat or arms with a leopard punch instead of attacking his chest with a Black Tiger.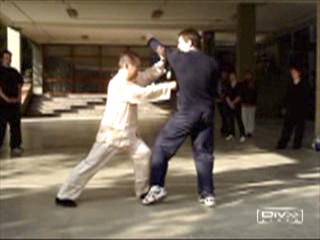 Covering Jabs Irrespective of whether Feint or Real
A Boxer's opening jabs are often feint moves to pave the way for a powerful right punch. Irrespective of whether they are feint or real attacks, you can close them and counter-attack. Good body-movement and footwork will prevent you from being hit even when you fail to cover the Boxer's jabs.

---
You can view the video clips above by clicking the picture or the caption below

Progressing to Realistic Sparring with a Boxer from Wong Kiew Kit on Vimeo.
---
You can view all the videos here
---
---
Basic Shaolin Kungfu against Boxing, Kick-Boxing, Muay Tahi and Wrestling
LINKS