EMPLOYING APPROPRIATE TACTICS TO DEFEAT A BOXER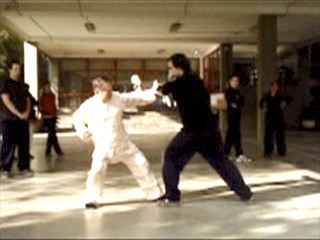 ---
---
"Know yourself, know your enemy, and you will win every battle" advised Sun Tzu, the great strategist, in his Art of War. If you know how a Boxer typically fights, and devise appropriate tactics to fight him accordingly, you will have a good chance of beating him.
Typically a Boxer throws leading jabs with his left hand, and follows up with a powerful cross-strike with his right hand. A good tactic is to brush away his jabs and close him so that it is difficult for him to throw further jabs or crosses. Then you strike him to clinch victory.
---
Please click the pictures or the captions below to view the videos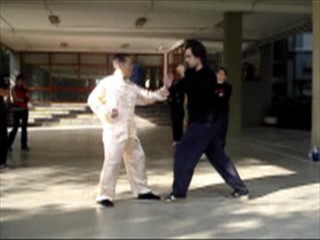 Responses against the Boxer's Hooks
When a Boxer executes a left hook, you can brush it away with your left "Single Tiger Emerges from Cave". If he executes a right hook, using your left "Single Tiger" would be going against his momentum. A better response is to use your left "Kitten Washes Face", which flows with his momentum. In both cases, you need to "sink" back so that his hooks would pass you even without you brushing them away. However, if he is about to start his left hook, and you are ready, you can intercept it with your left palm or right palm.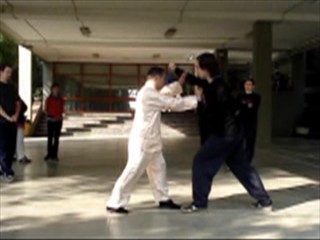 Intercepting a Boxer's Hook
To intercept a hook, which is similar to "Hang a Golden Star" in Shaolin Kungfu, you can use "Immortal Emerges from Cave", and not "Single Tiger Emerges from Cave". You could break the Boxer's wrist or forearm with a good interception.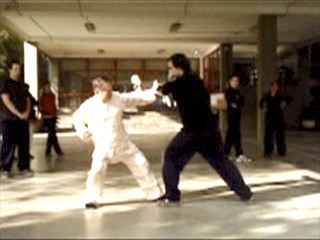 Brushing away and Closing Left Jabs
When a Boxer tests you with a left jab, you can brush away his jab with your left "Single Tiger Emerges from Cave". He may dodge and jabs at you again. Again you brush away his left jab with your left "Single Tiger", and closes him before attacking him with a right "Black Tiger".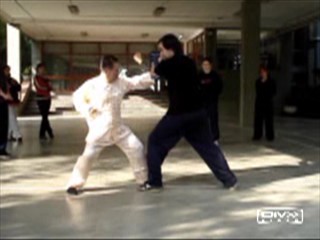 Body-Movement to Overcome Fast Jabs
You can cover a Boxer's left jabs. Here the Boxer is quick fast. You can avoid his fast jabs with agile body-movement, without moving your legs.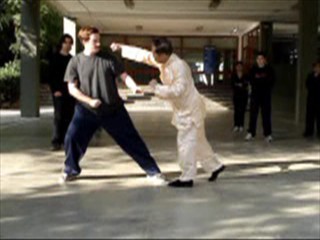 Beware of an Agile Boxer
When you close a mediocre Boxer, you can move in safely to attack him. He would be unable to counter-attack you. But a good Boxer is agile; he may turn his body to strike you with his right punch.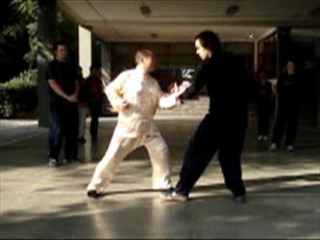 Covering and Striking a Boxer
You have covered a Boxer's arms with your left Single Tiger, and are about to strike him with a right Black Tiger. But he turns his body to release the coverage and strikes you with his right punch. You can then brush away his right punch and cover him with your left Single Tiger, and strike him with your right Black Tiger or leopard punch.

---
You can view the video clips above by clicking the picture or the caption below

Employing Appropriate Shaolin Tactics to Defeat a Boxer from Wong Kiew Kit on Vimeo.
---
You can view all the videos here
---
---
Basic Shaolin Kungfu against Boxing, Kick-Boxing, Muay Tahi and Wrestling
LINKS