WHAT WOULD YOU DO IF YOUR KICKING LEG IS BEING HELD?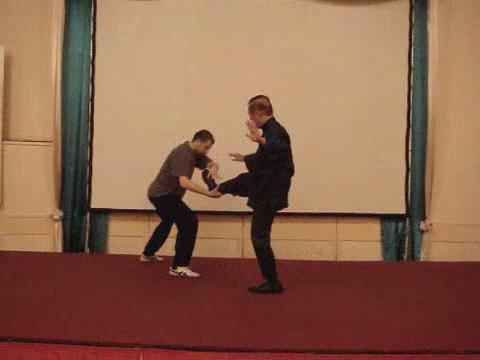 ---
---
This is Combat Sequence 7, "Thrust Kick". It is an effective sequence for pressing attack. If you are skillful, you can just apply this sequence on your opponent and force him against a wall. You may keep repeating the sequence if needed.
You have to be prepared if your opponent grasps your kicking leg. An effective counter, which you should apply immediately as he grasps your foot, is to stamp your leg down and simultaneously strike his head with a hanging fist. You need to take care of your groin as you stamp down your foot.
---
Please click the pictures below to view the videos
---
You can view all the above video clips by clicking the picture or the caption. Click the bottom right corner for enlarged viewing.
---
Secrets of the Internal Force Masters
LINKS