COUNTERS AGAINST MUAY THAI KNEE JABS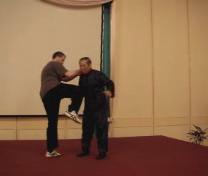 ---
---
Muay Thai knee jabs are feared by many martial artists who do not know how to defend against such powerful and ferocious attacks. It is not normally realized that using such attacks is not advisable in real fighting without safety rules because they expose the attacker dangerously.
An effective counter against Muay Thai knee jabs is "Child Immortal Carries Flag", which is the Taijiquan equivalent of the Shaolin "Plant Willow in Front of Camp". You can also employ "Green Dragon Shoots Pearl" to counter the knee jabs. Good footwork is needed for its successful application.
If the opponent grips your neck, you may counter with "Push Boat According to Current", felling the opponent onto the ground.
---
Please click the pictures below to view the videos
---
You can view all the above video clips by clicking the picture or the caption. Click the bottom right corner for enlarged viewing.
---
Secrets of the Internal Force Masters
LINKS