EFFECTIVE TAIJIQUAN TECHNIQUES AGAINST BOXING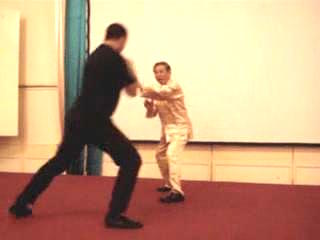 ---
---
There are many effective Taijiquan techniques against Boxing. As a Boxer attacks, you may close or open him and counter attack. It is important that you should cover yourself well when attacking a Boxer as his punches are fast. A good technique to open or close a Boxer is to use "Lift Hand" as he punches. You can also apply chin-na techniques on a Boxer, or to move in swiftly to strike while he bounces about.
---
Please click the pictures below to view the videos
---
You can view all the above video clips by clicking the picture or the caption. Click the bottom right corner for enlarged viewing.
---
Secrets of the Internal Force Masters
LINKS