THE EFFECTIVE TACTIC OF CLOSE AND STRIKE AGAINST BOXERS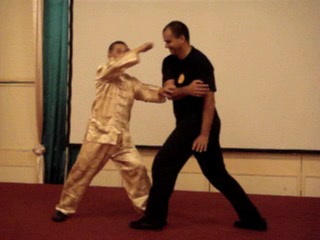 ---
---
The tactic of "close and srrike" is very effective in countering a Boxer. When a Boxer attacks you with jabs or crosses, close his hands with your Tiger-Claw and strike him with your Leopard Punch. It is very important you have closed him thoroughly so that he cannot attack you while you strike him, otherwise you will be exposed to his fast punches. If he bounces away, cover the gap and close and strike him. Our wider stance enables us to easily cover the space of a Boxer's bouncing.
---
Please click the pictures below to view the videos
---
You can view all the above video clips by clicking the picture or the caption. Click the bottom right corner for enlarged viewing.
---
Secrets of the Internal Force Masters
LINKS