COUNTERS AGAINST PRESSING ATTACKS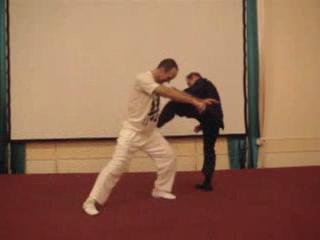 ---
---
There are numerous ways to counter Pressing Attacks. One effective way is to stop the Pressing Attacks with "Immortal Waves Sleeves". A good Bow-Arrow Stance with good body-movement is necessary.
Another effective way is to grip the opponent's attack hand and pull him onto the ground. You can execute this technique using the pattern "Old Eagle Catches Snake". A third way is to side step and kick the opponent as he attacks.
---
Please click the pictures below to view the videos
---
You can view all the above video clips by clicking the picture or the caption. Click the bottom right corner for enlarged viewing.
---
Secrets of the Internal Force Masters
LINKS