MAKING KUNGFU ALIVE WITH FIERCE DRAGON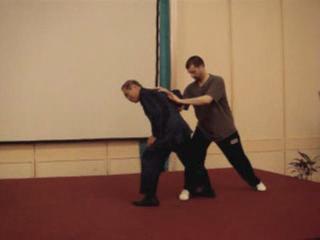 ---
---
Kungfu patterns are alive. Sometimes a pattern can be employed in ways far beyond what it appears to be. "Fierce Dragon Across Stream" in Combat Sequence 12 is a good example.
Normally "Fierce Dragon Across Stream" is used as a palm strike. But here it is used as a chin-na technique to hold an opponent's arm behind his back.
How would you counter against such a chin-na attack? "Carry Tiger Back to Mountain" is an excellent counter. Here it is executed as if effortlessly that it succinctly reflects the soft, graceful nature of Taijiquan.
---
Please click the pictures below to view the videos
---
You can view all the above video clips by clicking the picture or the caption. Click the bottom right corner for enlarged viewing.
---
Secrets of the Internal Force Masters
LINKS