APPLYING COMBAT SEQUENCES IN SPARRING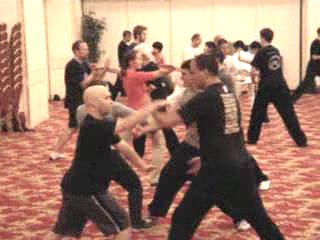 ---
---
A major problem facing most kungfu practitioners today is that they are unable to apply their kungfu forms for combat. Happily we overcome this problem. Indeed, a hallmark of our school is that we use the same kungfu forms both in our solo practice and in our sparring.
A major aspect in our sparring methodology is combat sequences. Here, course participants review the first six Taijiquan combat sequences in the initiator's mode, then apply them in sparring.
---
Please click the pictures below to view the videos
---
You can view all the above video clips by clicking the picture or the caption. Click the bottom right corner for enlarged viewing.
---
Secrets of the Internal Force Masters
LINKS