TAIJIQUAN AS AN INTERNAL MARTIAL ART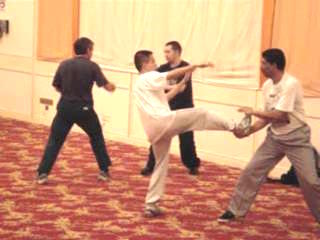 ---
---
As Taijiquan is an internal martial art (certainly not a dance), naturally two fundamental aspects are internal force and combat application. The video clips here show course participants manifesting these two fundamental aspects of Taijiquan in their chi flow, which is an essential element of internal force development, and in applying Taijiquan techniques in combat. Taijiquan is also an effective way of spiritual cultivation, manifested here in meditation.
---
Please click the pictures below to view the videos
---
You can view all the above video clips by clicking the picture or the caption. Click the bottom right corner for enlarged viewing.
---
Secrets of the Internal Force Masters
LINKS