KICKING ATTACKS AND THEIR COUNTERS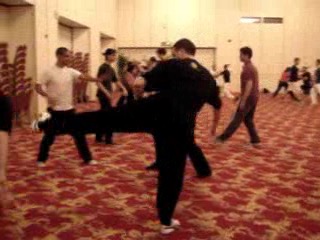 ---
---
It is a mis-conception by some practitioners that kungfu, especially Taijiquan, has few or no kicks. Combat Sequences 5, 6, 7 and 8, for example, focus on kicks. It is easy to defend against kicks if you know how. Striking an opponent's leg as he kicks is a good tactic. You must, however, cover his hands and legs as you move in to attack.
---
Please click the pictures below to view the videos
---
You can view all the above video clips by clicking the picture or the caption. Click the bottom right corner for enlarged viewing.
---
Secrets of the Internal Force Masters
LINKS