MUAY THAI TECHNIQUES IN TAIJIQUAN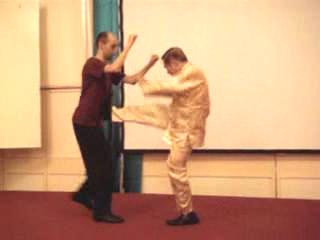 ---
---
It may be of interest for some to know that all the popular Muay Thai techniques, like the formidable elbow and knee strikes, are also found in Taijiquan. They correspond to "Press Elbow" and "Golden Cockerel Stands Solitarily" in Taijiquan. On the other hand, many Taijiquan techniques are not found in Muay Thai. These include "Playing the Lute" (or "Plant Willow in Front of Camp" in Shaolin Kungfu) and "Carry Tiger Back to Mountain", which are excellent in throwing Muay Thai fighters onto the ground.
---
Please click on the pictures or their captions to view the videos
---
You can view all the above video clips by clicking the picture or the caption. Click the bottom right corner for enlarged viewing.
---
Secrets of the Internal Force Masters
LINKS