EFFECTIVE KICKING ATTACKS AND THEIR DEFENCES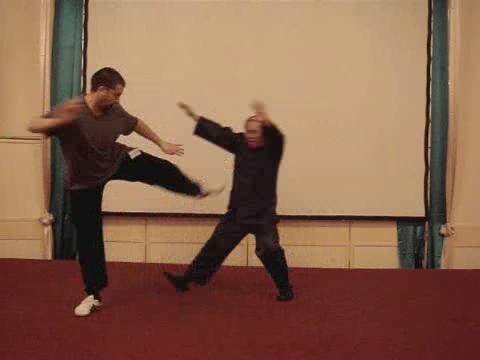 ---
---
This is Combat Sequence 8, "Low Stance Single Whip".
This sequence contains effective kicking attacks and their counters. When an opponent attacks you, almost irrespective of what attacks he may employ, an effective response is to side step and simultaneously executes a side kick. If he blocks or avoids the kick, follow immediately with a whirlwind kick.
An effective response against such attacks is shown in the video clip. Notice that there is no need to move away with your feet; you just use body-movement to avoid the kicks. However, stepping back slightly with your back leg may be needed if his kicks are too close. Immediately after his second kick, move in swiftly with a strike when the opponent attempts to recover his balance.
---
Please click the pictures below to view the videos
---
You can view all the above video clips by clicking the picture or the caption. Click the bottom right corner for enlarged viewing.
---
Secrets of the Internal Force Masters
LINKS