COMBAT SEQUENCE 12 - CARRY TIGER BACK TO MOUNTAIN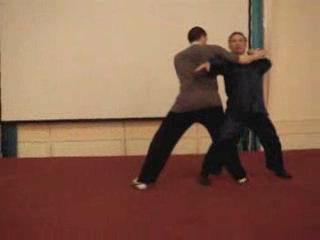 ---
---
Grandmaster Wong uses "Fierce Dragon Across Stream" to hold Sifu Jeffrey's arm to his back. Sifu Jeffrey responds with "Carry Tiger Back to Mountain", attempting to fell Grandmaster Wong onto the ground.
Grandmaster Wong neutralizes the felling technique and counters with "White Snake Shoots Venom". These attacks and counters are contain in Combat Sequence 12, "Carry Tiger Back to Mountain". It is worthy of note that the success or otherwise of these combat applications lies not in the patterns themselves but in their footwork.
---
Please click the pictures below to view the videos
---
You can view all the above video clips by clicking the picture or the caption. Click the bottom right corner for enlarged viewing.
---
Secrets of the Internal Force Masters
LINKS