THE MECHANICS OF THE SHOULDER STRIKE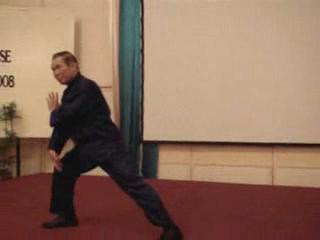 ---
---
If an opponent pulls you forward, an effective counter is to move forward following his pulling momentum and ram your shoulder into his chest. This is an example of "flowing with the opponent's momentum" as well as of "using minimum force against maximum strength".
In executing the Shoulder Strike, many students make the common mistake of striking from the shoulder. The correct movement is striking from the back leg! In other words, the momentum of your Shoulder Strike comes not from your shoulder but from your back leg.
It is important to provide adequate coverage for yourself as you strike with your shoulder, otherwise it is easy for your opponent to strike your eyes or groins as you attack. The Shoulder Strike is found in Combat Sequence 10, which naturally is called "Shoulder Strike".
---
Please click the pictures below to view the videos
---
You can view all the above video clips by clicking the picture or the caption. Click the bottom right corner for enlarged viewing.
---
Secrets of the Internal Force Masters
LINKS