LEARNING A SET IN JUST ONE DAY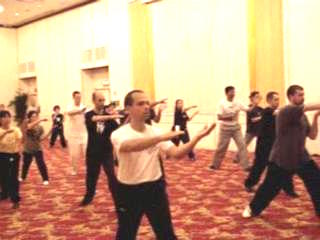 ---
---
How long does it take to learn a kungfu set? Most persons would take a few months but the course participants took only one day! Though this is not quite accurate because they were supposed to have familiarized themselves with the movements before they attended the course, this highlights the speed we in Shaolin Wahnam learn kungfu forms. But we still need time to practice the set so that we become proficient in its performance and application. The video clips here show course participants linking respective combat sequences into Taijiquan sets. Two sets can be formed from these sequences. Do you know what they are?
---
Please click the pictures below to view the videos
---
You can view all the above video clips by clicking the picture or the caption. Click the bottom right corner for enlarged viewing.
---
Secrets of the Internal Force Masters
LINKS