TAIJIQUAN TECHNIQUES AGAINST KICK-BOXING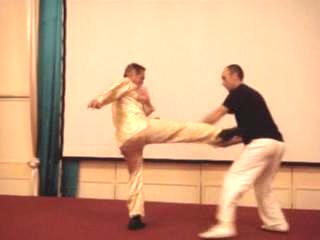 ---
---
It is also not difficult to fight against Kick-Boxers. Their punches can be handled the same way as handling Boxers. There are some effective techniques against their kicks. An effective technique is to strike their legs whenever they kick. Another effective technique is to fell them as soon as they place their legs on the ground after kicks.
---
Please click the pictures below to view the videos
---
You can view all the above video clips by clicking the picture or the caption. Click the bottom right corner for enlarged viewing.
---
Secrets of the Internal Force Masters
LINKS